Total:

40 min

Active:

20 min
Yield:

2 servings

Nutrition Info

Nutritional Analysis

Per Serving

Calories

430

Total Fat

19 grams

Saturated Fat

2.5 grams

Cholesterol

100 milligrams

Sodium

520 milligrams

Carbohydrates

26 grams

Dietary Fiber

5 grams

Protein

40 grams

Sugar

8 grams
Ingredients
Directions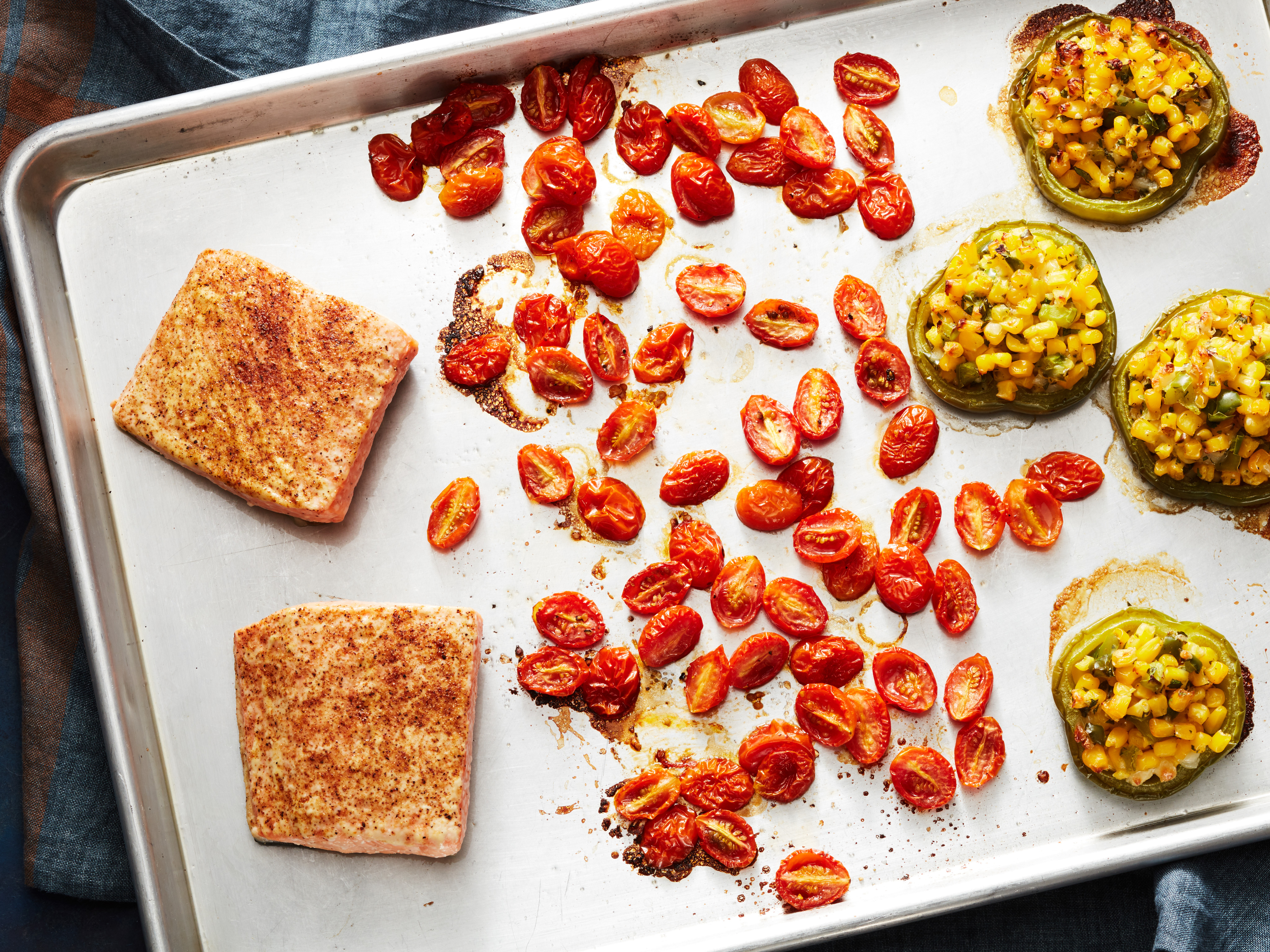 Preheat the oven to 400 degrees F. Slice the bottom and stem ends off the pepper and cut the ends into corn kernel-size pieces. Remove the seeds and cut the pepper into 4 rings.
Scatter the tomatoes down the center of a baking sheet and arrange the pepper rings next to the tomatoes on whichever side you'd like. Drizzle 1 teaspoon of the oil over the tomatoes and sprinkle with salt, pepper and about half of the BBQ rub. Toss together the corn, pepper pieces, cheese, yogurt, cilantro, a large pinch of salt and a few grinds of pepper in a bowl. Fill the pepper rings with the corn mixture. Bake the vegetables until slightly browned, about 20 minutes. 
While the vegetables are in the oven, brush each salmon fillet with dijonnaise and sprinkle with the remaining BBQ rub, some salt and a few grinds of pepper. 
Once the vegetables are browned, remove the baking sheet from the oven and drizzle the empty side with the remaining 1 teaspoon oil. Add the fillets, return to the oven and cook until the sides of the salmon feel firm when gently squeezed and the flesh is just slightly flaky, 5 minutes more. Sprinkle with cilantro leaves and serve with lime wedges. 
Source: Read Full Article