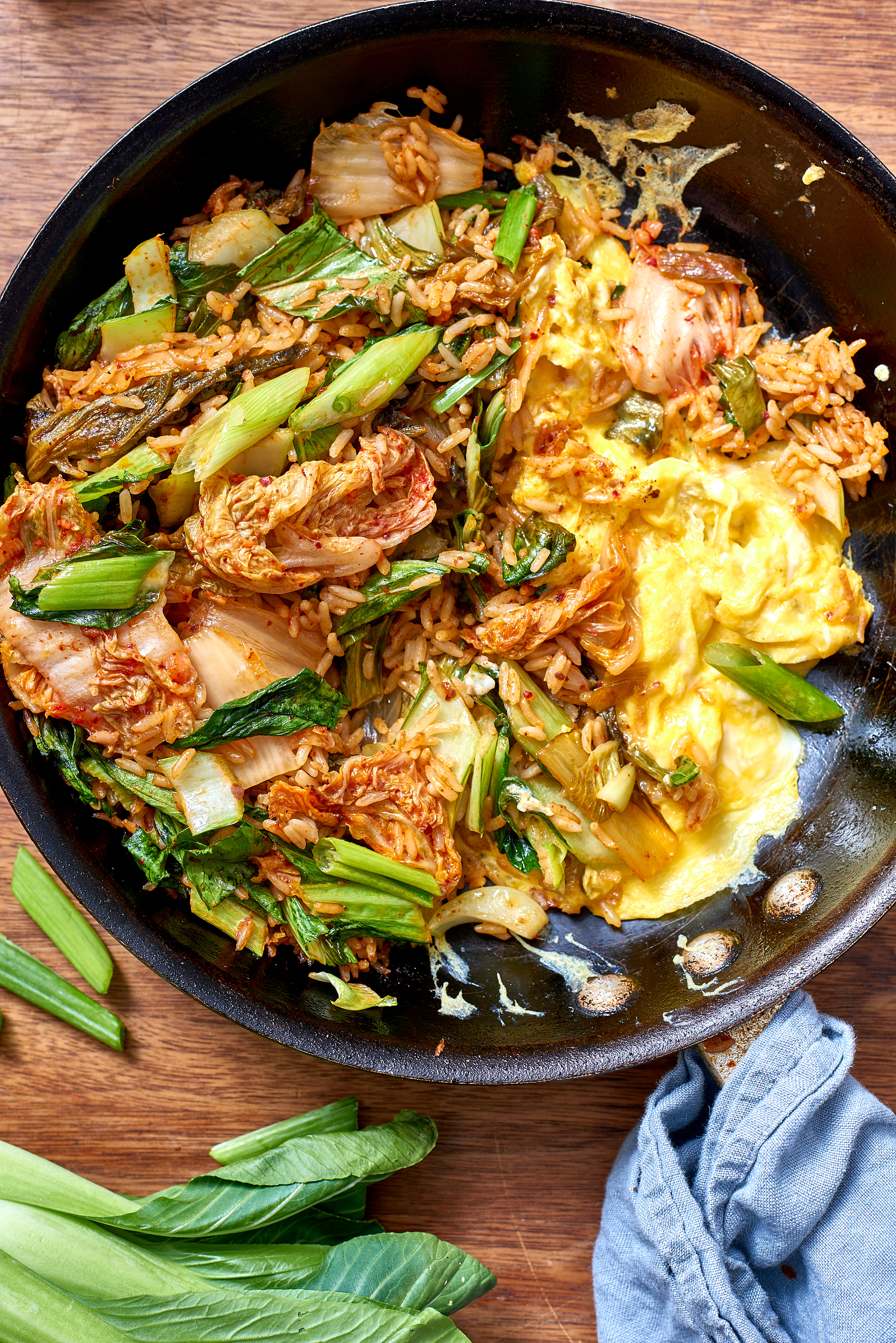 2. Kimchi Fried Rice with Extra Greens
Kimchi adds tang and spice to this unique take on quick-cooking fried rice. If you'd like to add even more flavor, cook a little bacon in the skillet first and fry the rice in its fat.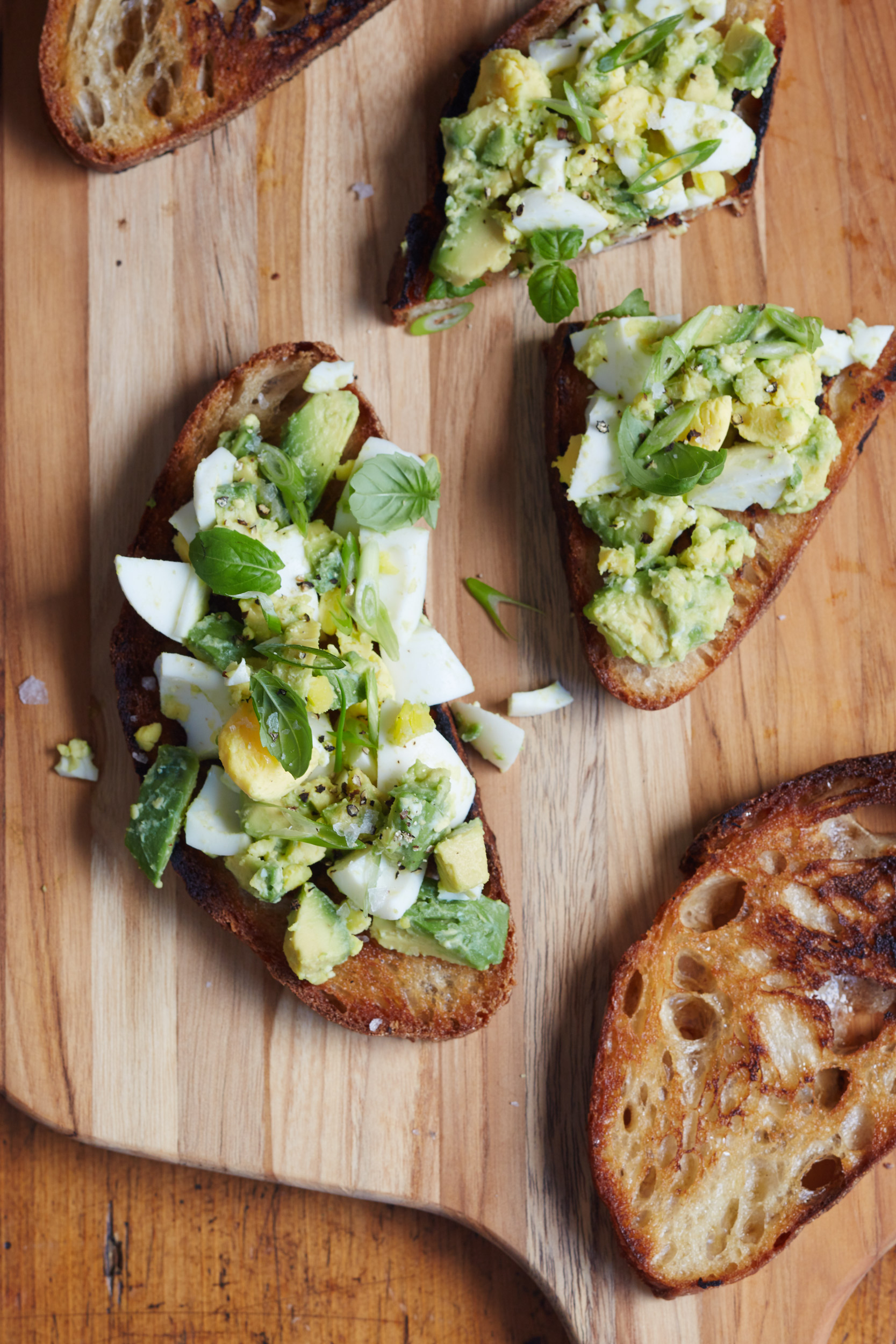 3. Egg and Avocado Salad on Toast
This simple meal is the ultimate choice when you're not really in the mood to cook too much but still want something that's hearty and satisfying. It's also worth making extra so you can bring leftovers for lunch.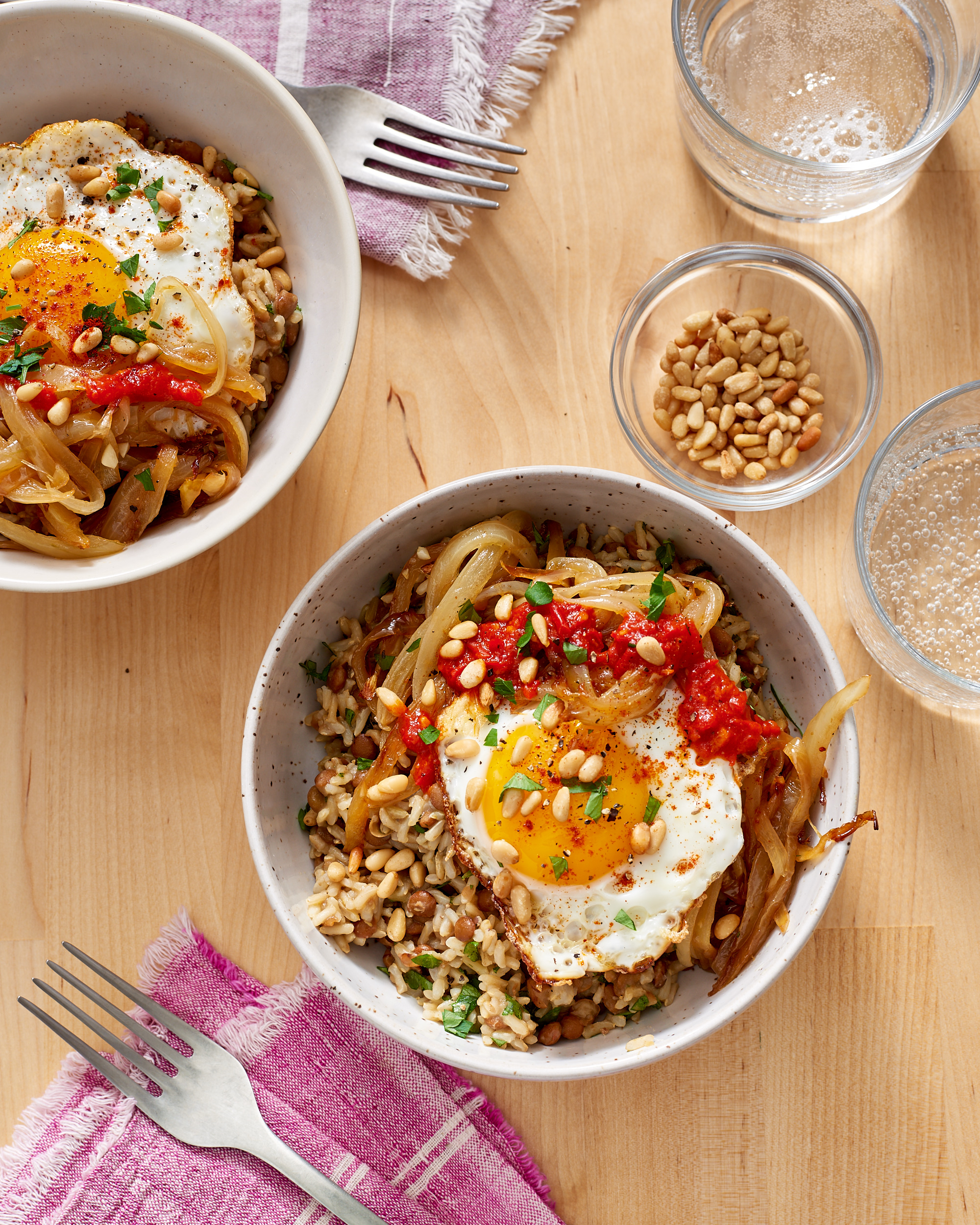 4. Brown Rice Bowl with Lentils, Caramelized Onions & Fried Egg
This dish starts with a rice and lentil stew, but the fun part is in the garnishes: Spicy harissa, crunchy pine nuts, and a fried egg finish this bowl and turn it into an exciting dinner.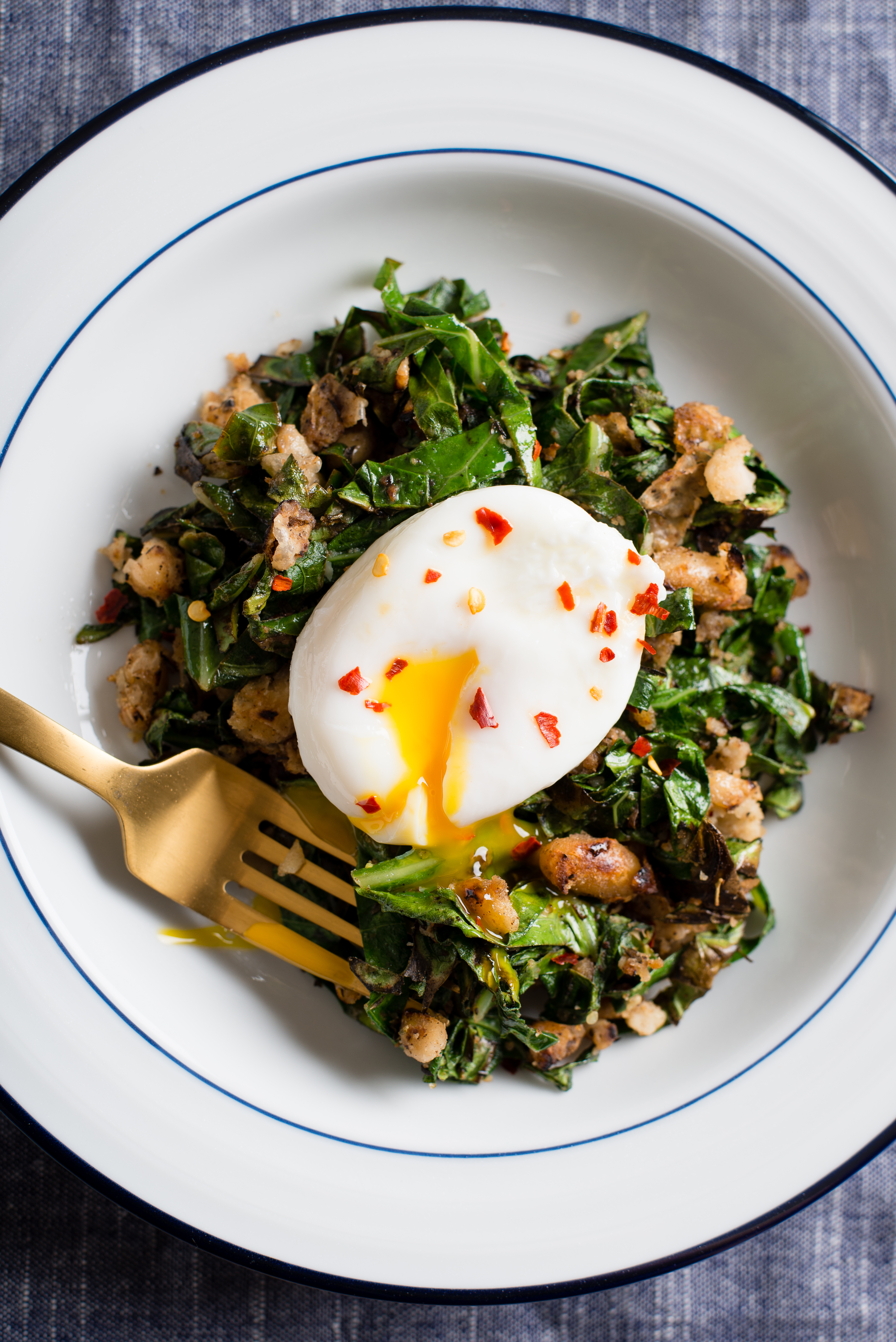 5. Crispy White Beans with Greens and Poached Egg
While this recipe calls for Swiss chard, feel free to use any leafy green, like kale or spinach, that you may have tucked in your crisper drawer. And if you'd rather not poach the eggs, frying them is equally as tasty.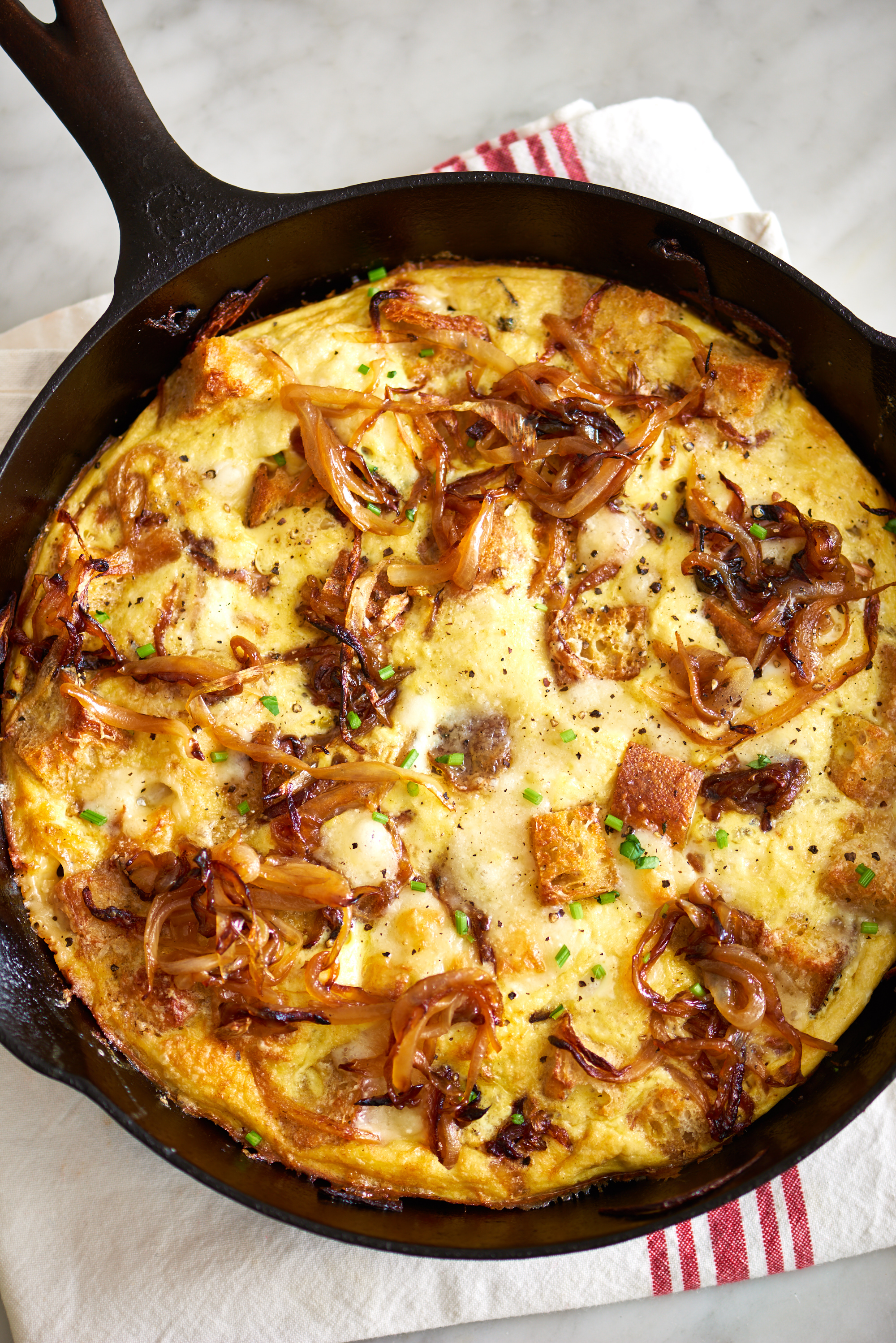 6. French Onion Frittata
All the best components of French onion soup — the caramelized onions, the melty cheese, and the toasted bread — come together in this extra-savory frittata.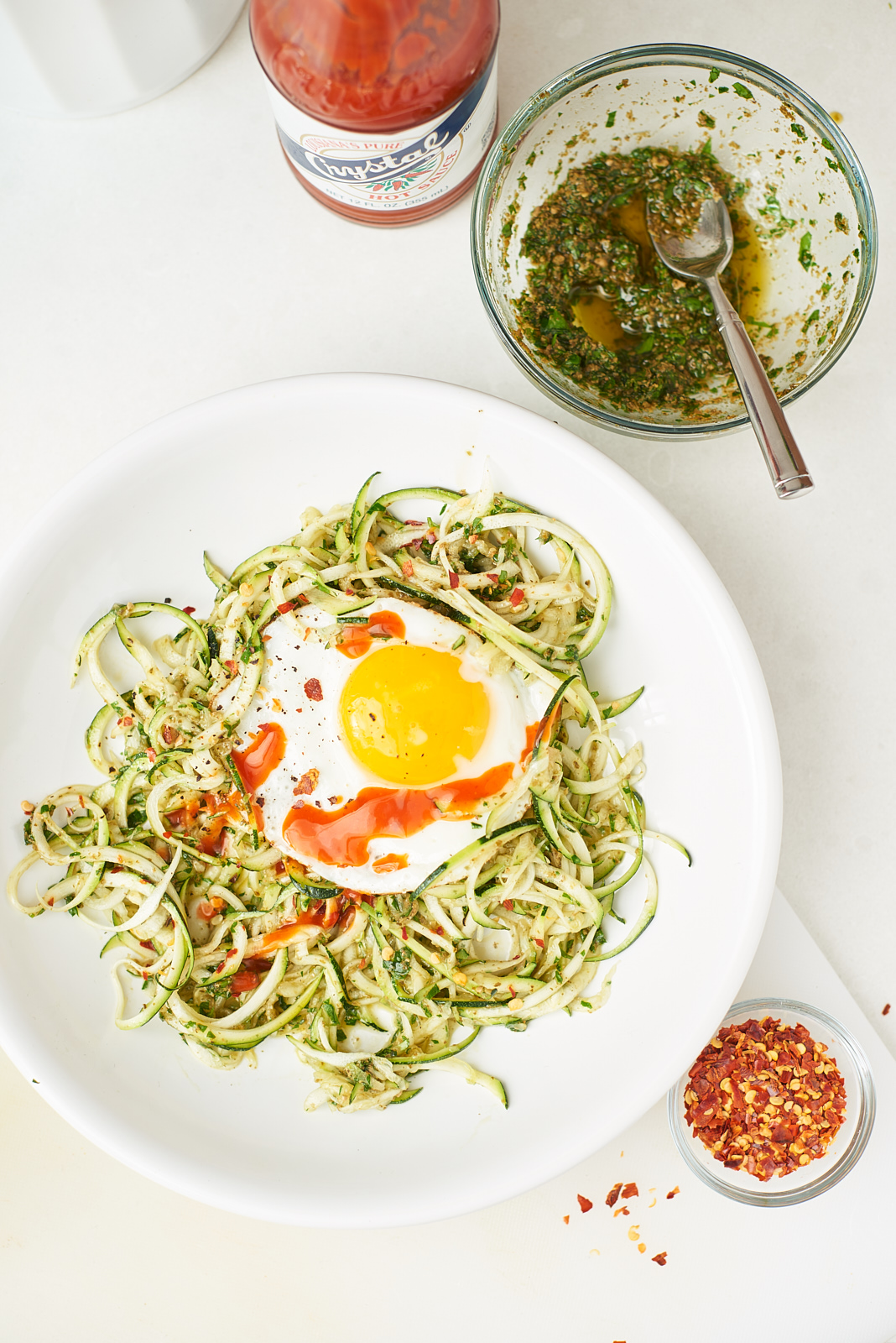 7. 3-Ingredient Pesto Zoodle Bowl
Pick up a container of zucchini noodles and a jar of your favorite pesto and in about 5 minutes you've got a simple, comforting dinner that feels as if it took much longer to make.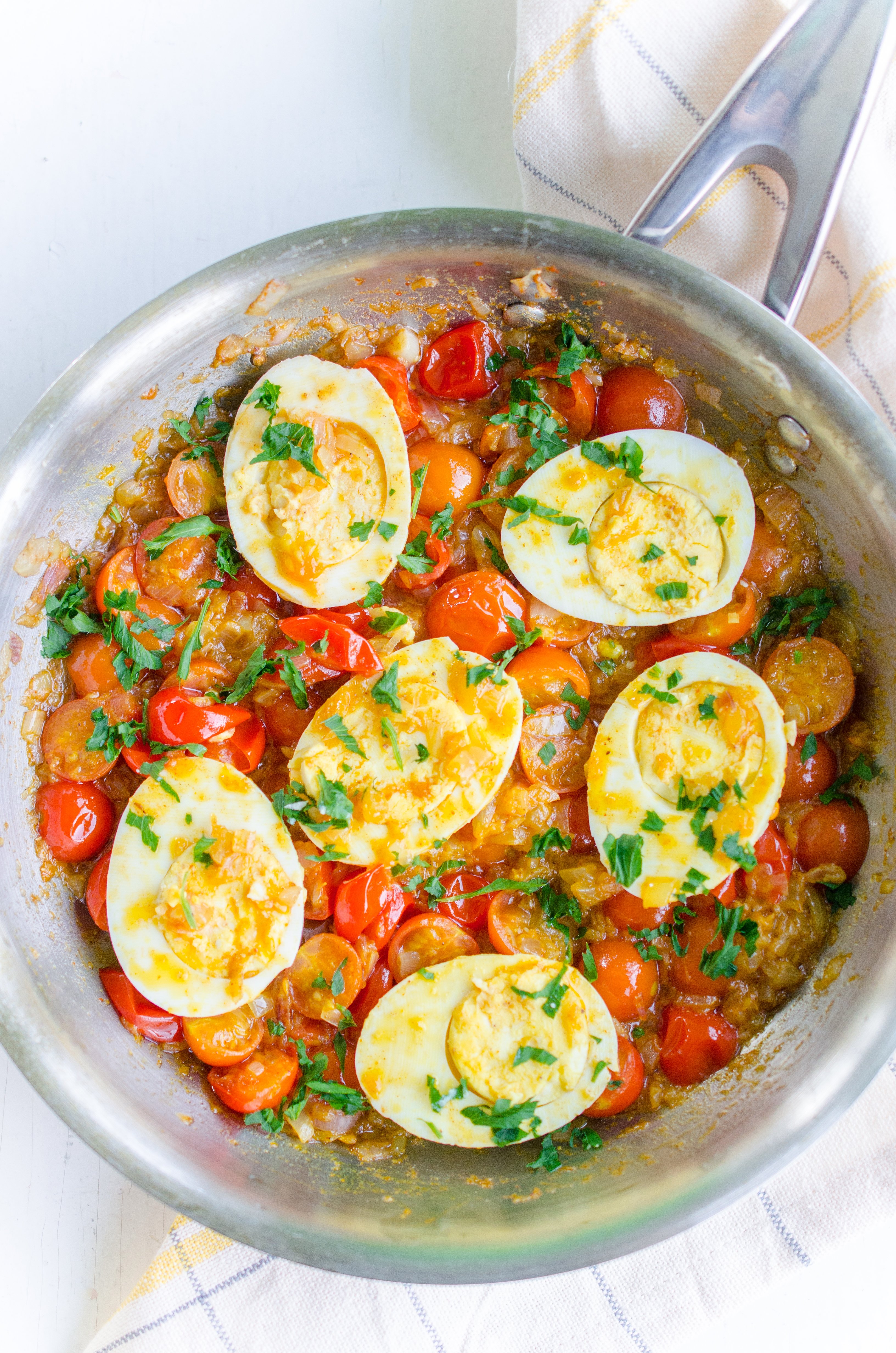 8. Egg Curry with Cherry Tomatoes
This bright and vibrant curry features cherry tomatoes with Indian spices and sliced hard-boiled eggs. It's a great way to use up extra hard-boiled eggs!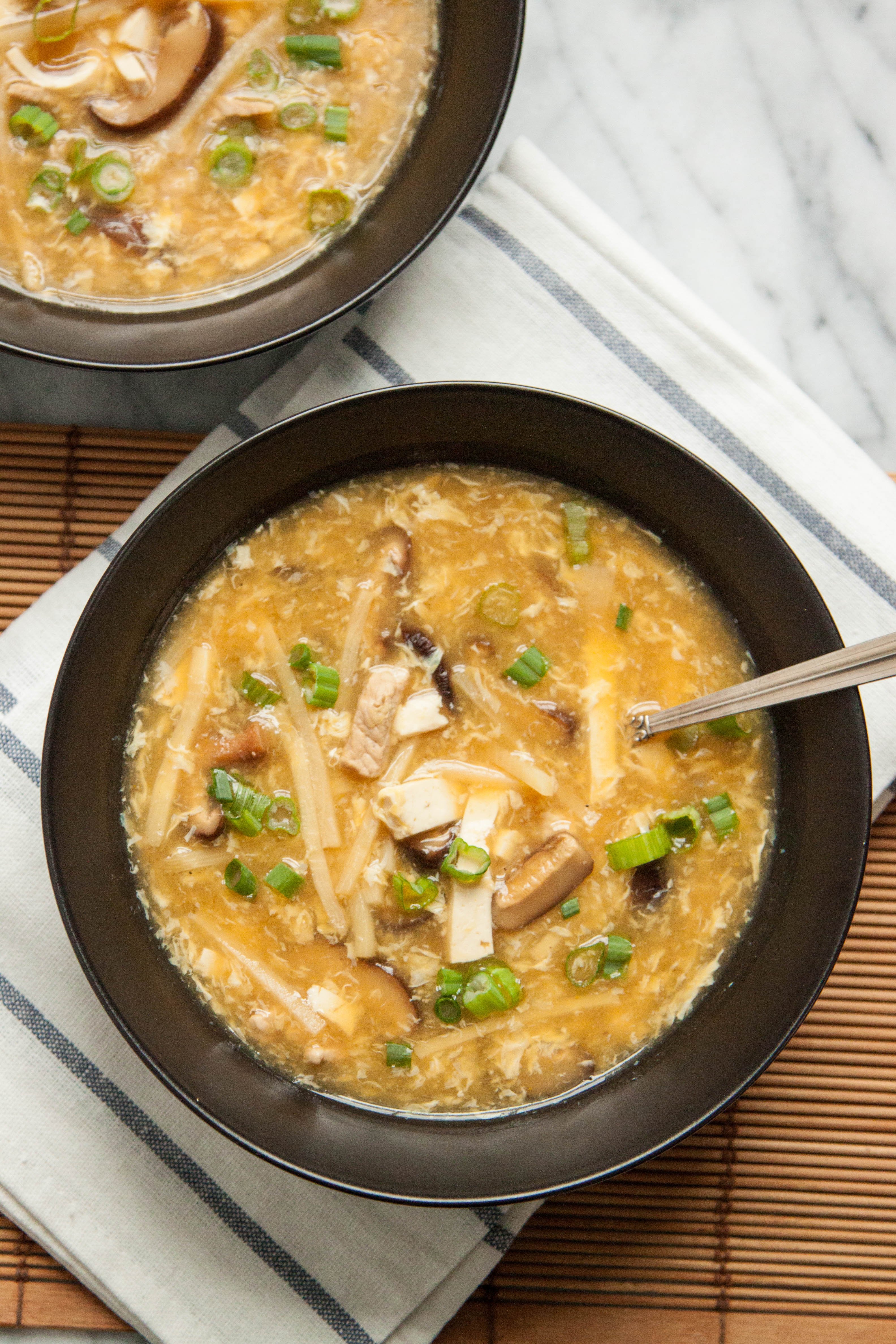 9. Hot and Sour Soup
An egg helps thicken this satisfying and comforting Chinese soup full of tofu and mushrooms, all in a spicy-sour broth.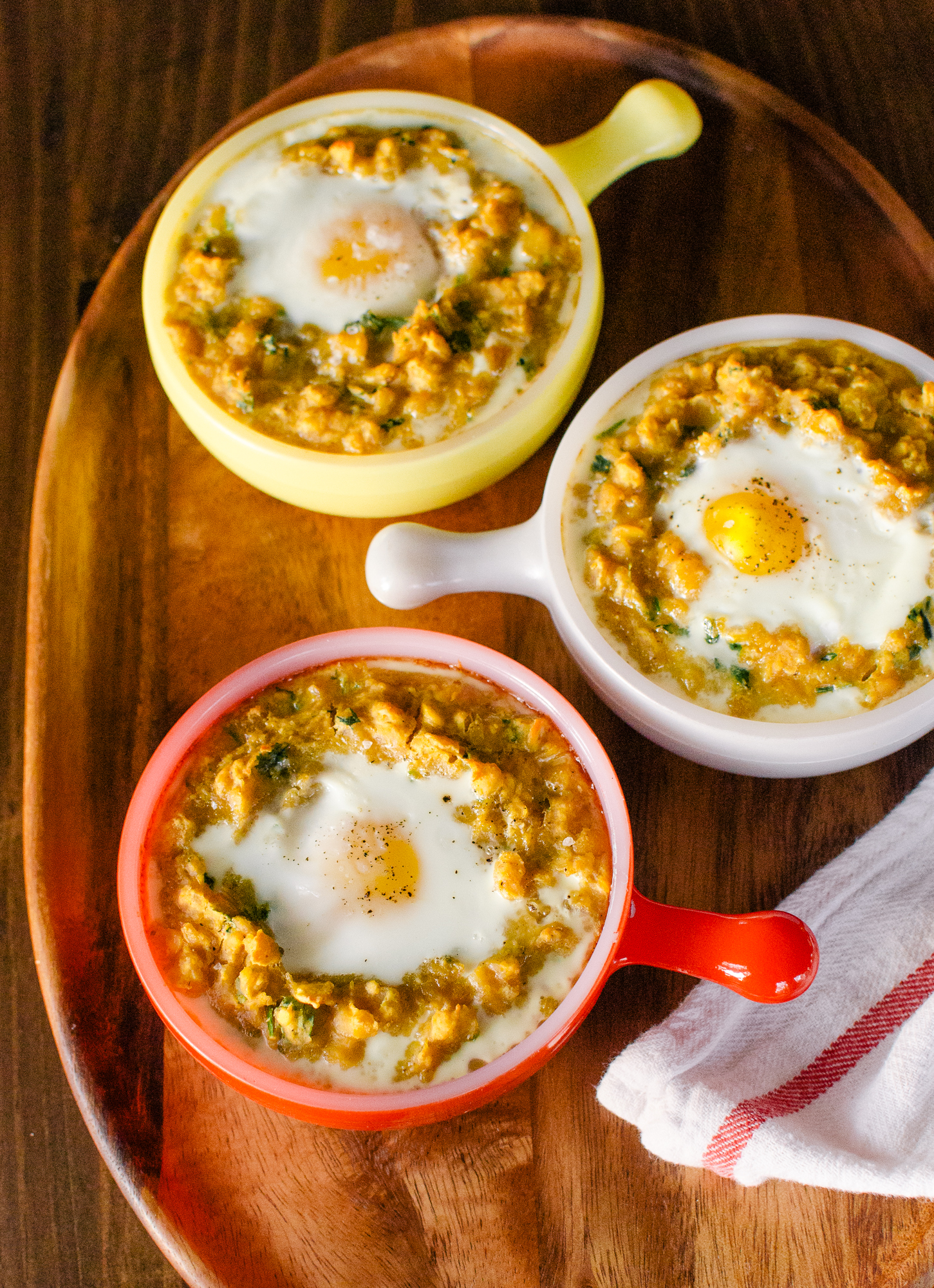 10. Spiced Lentils With Egg
Start by making warmly spiced and stewed lentils and split peas, then crack an egg into each serving and bake until the egg is just set for a vegetarian dinner.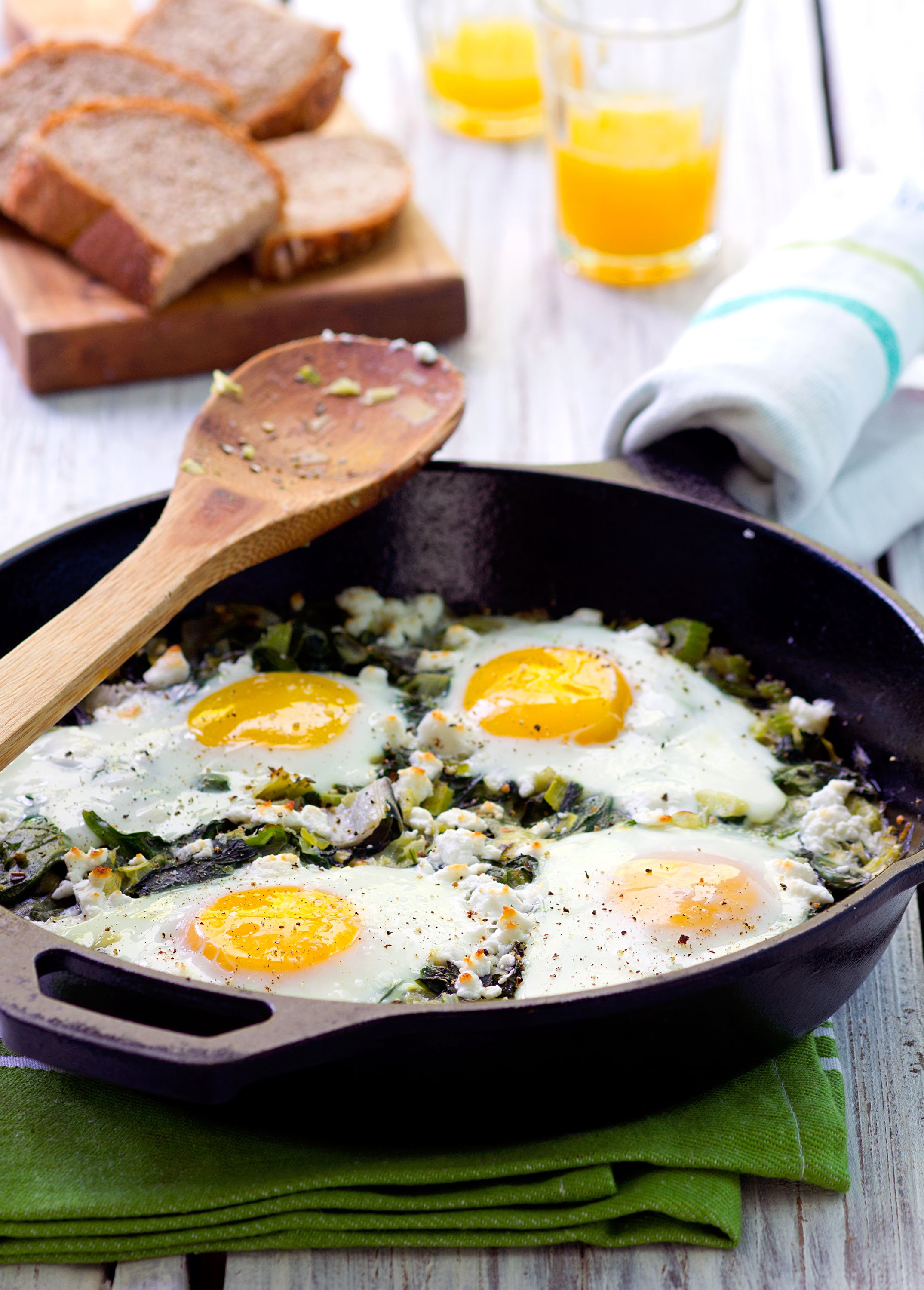 11. Green Shakshuka
Shakshuka is traditionally made with a tomato base, but this green version has leeks, greens, and feta cheese all cooked in a skillet with eggs cracked on top. Serve with crusty bread to mop up all the goodness.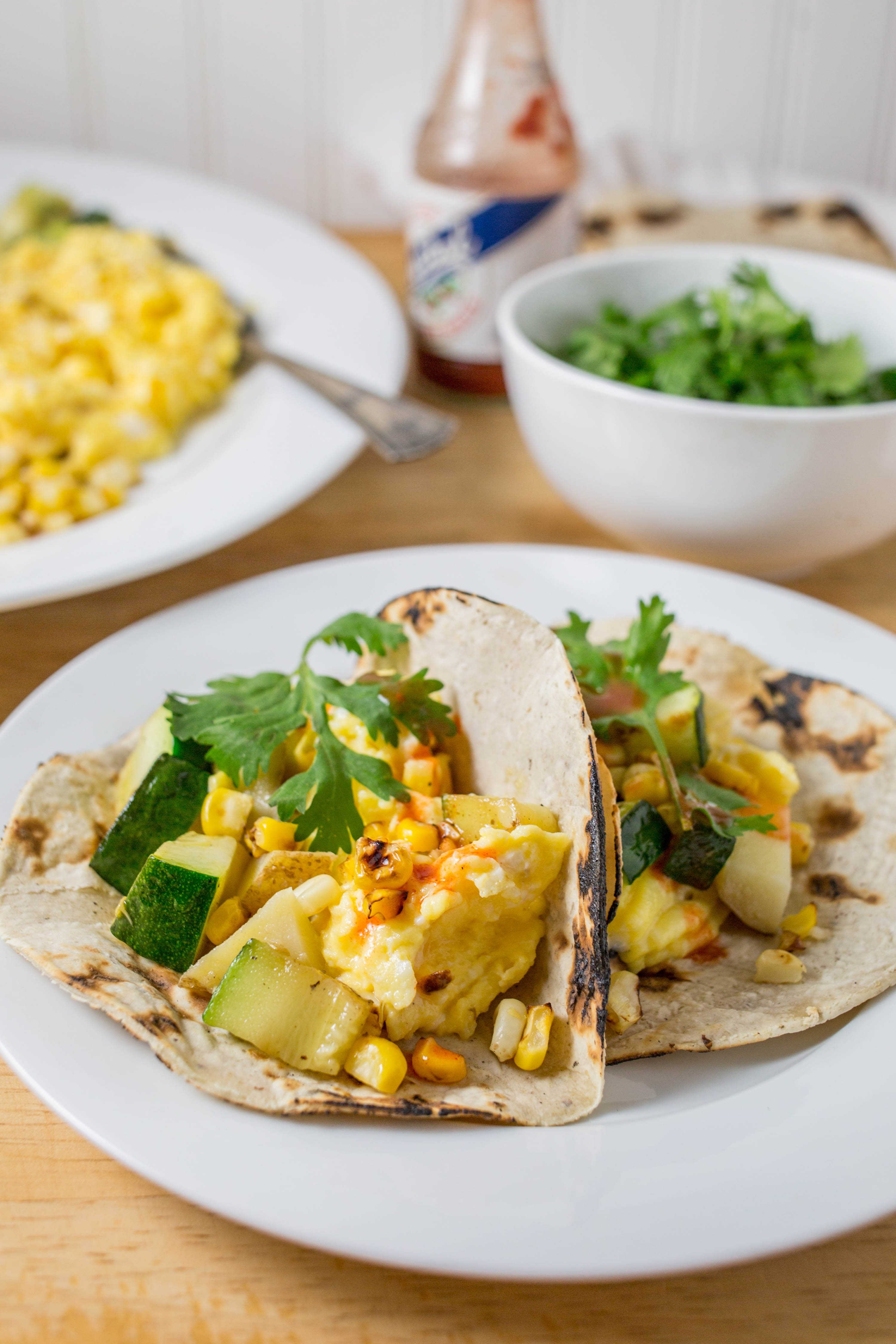 12. Scrambled Egg Tacos
Turn even a small amount of leftovers into tacos with the addition of scrambled eggs. Stuff the scrambled eggs with leftover veggies or meat into tortillas and top with hot sauce for an easy way to clear out the fridge.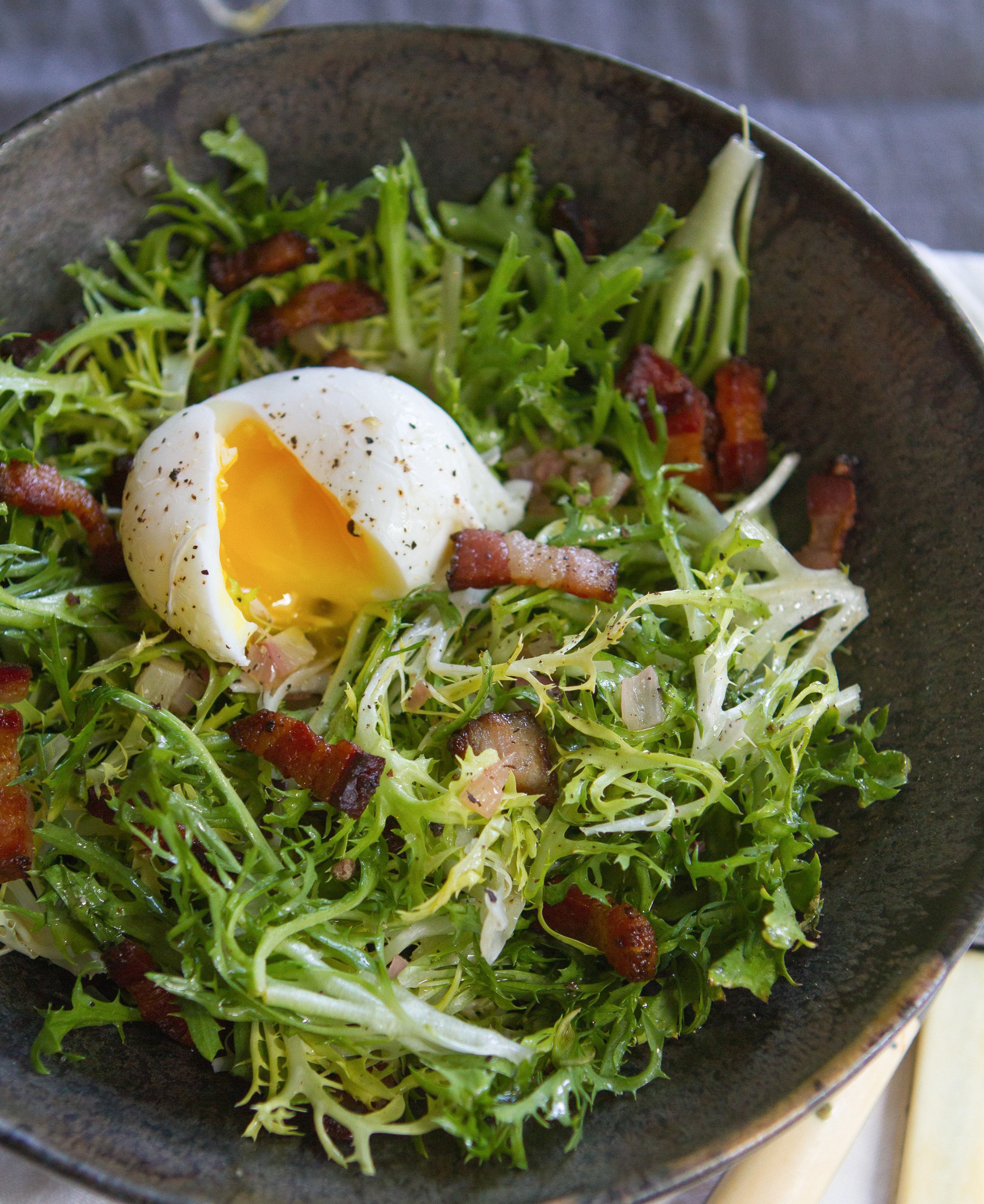 13. Lyonnaise Salad
I love this classic French salad of greens, crispy bacon, and a poached egg with a shallot vinaigrette. The runny egg yolks help to form a delicious sauce and turn this salad into a light dinner.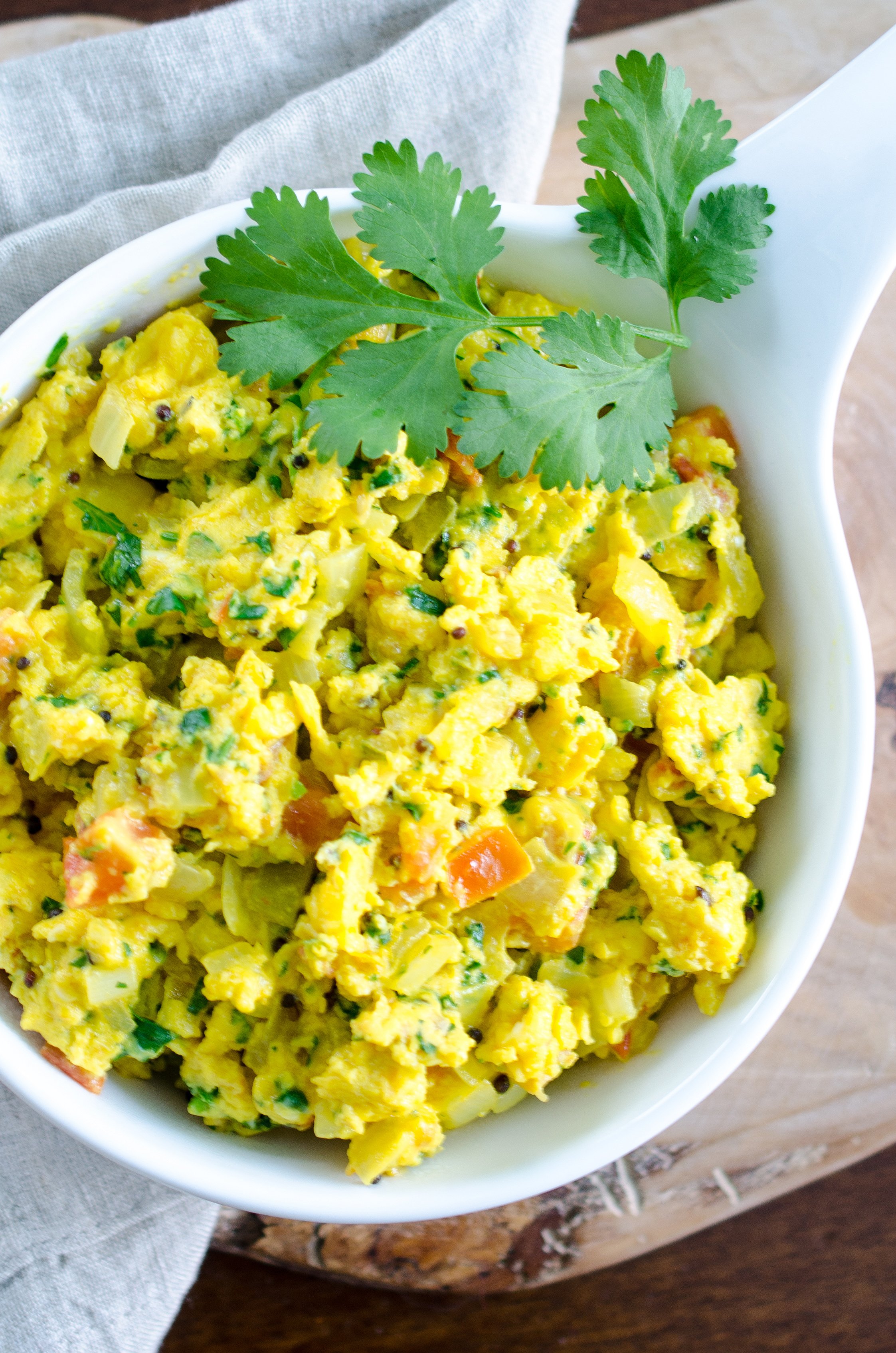 14. Indian Scrambled Eggs (Egg Bhurji)
Up your scrambled egg game by cooking them with ginger, chiles, and spices. Serve with rice or use some Indian naan bread to scoop them up.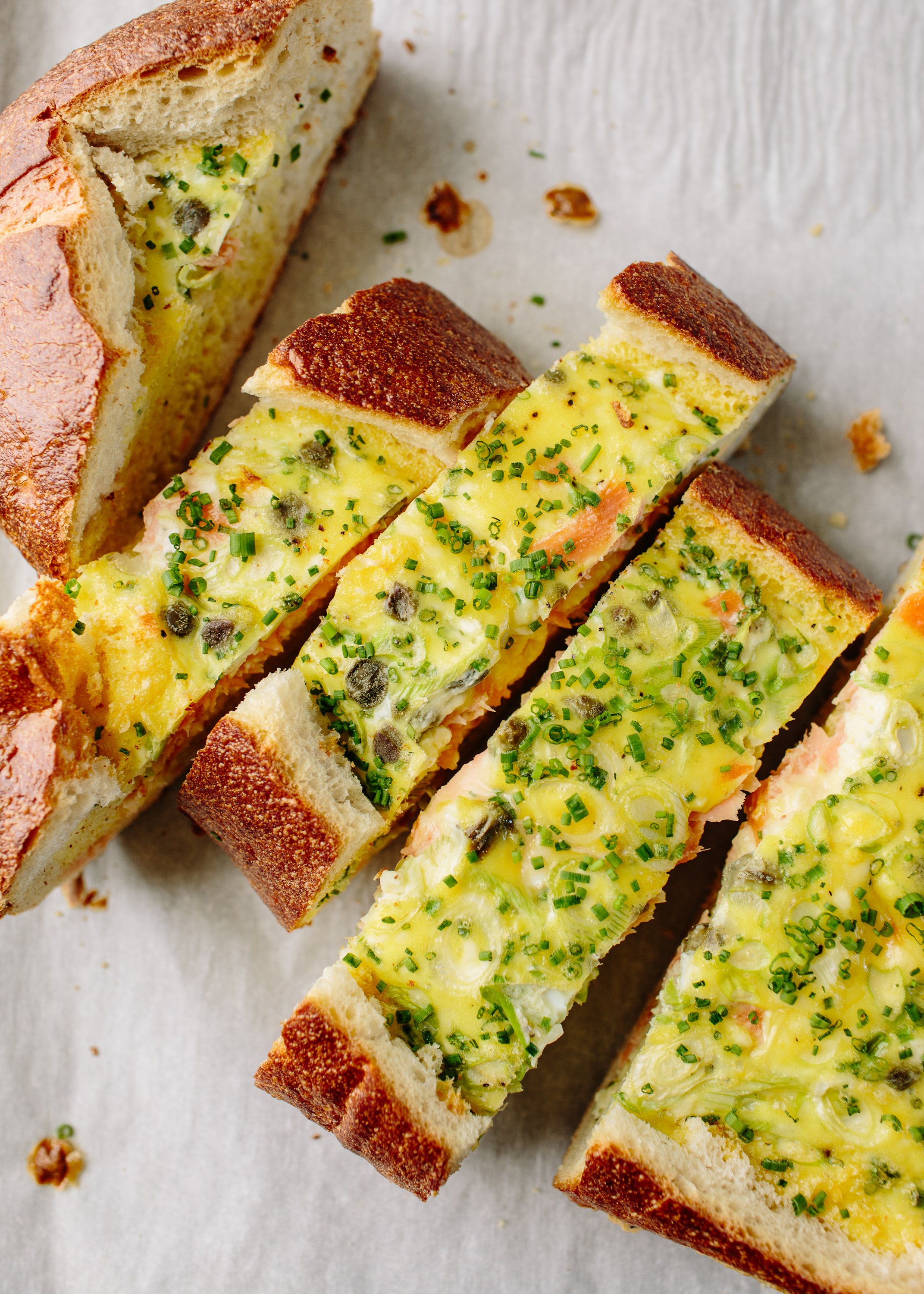 15. Smoked Salmon Egg Boats
Instead of making or buying pie dough, put quiche filling in hollowed-out French bread for an easy-but-satisfying dinner. This version is filled with eggs, smoked salmon, herbs, and cheese that bake into "boats" to easily serve a crowd!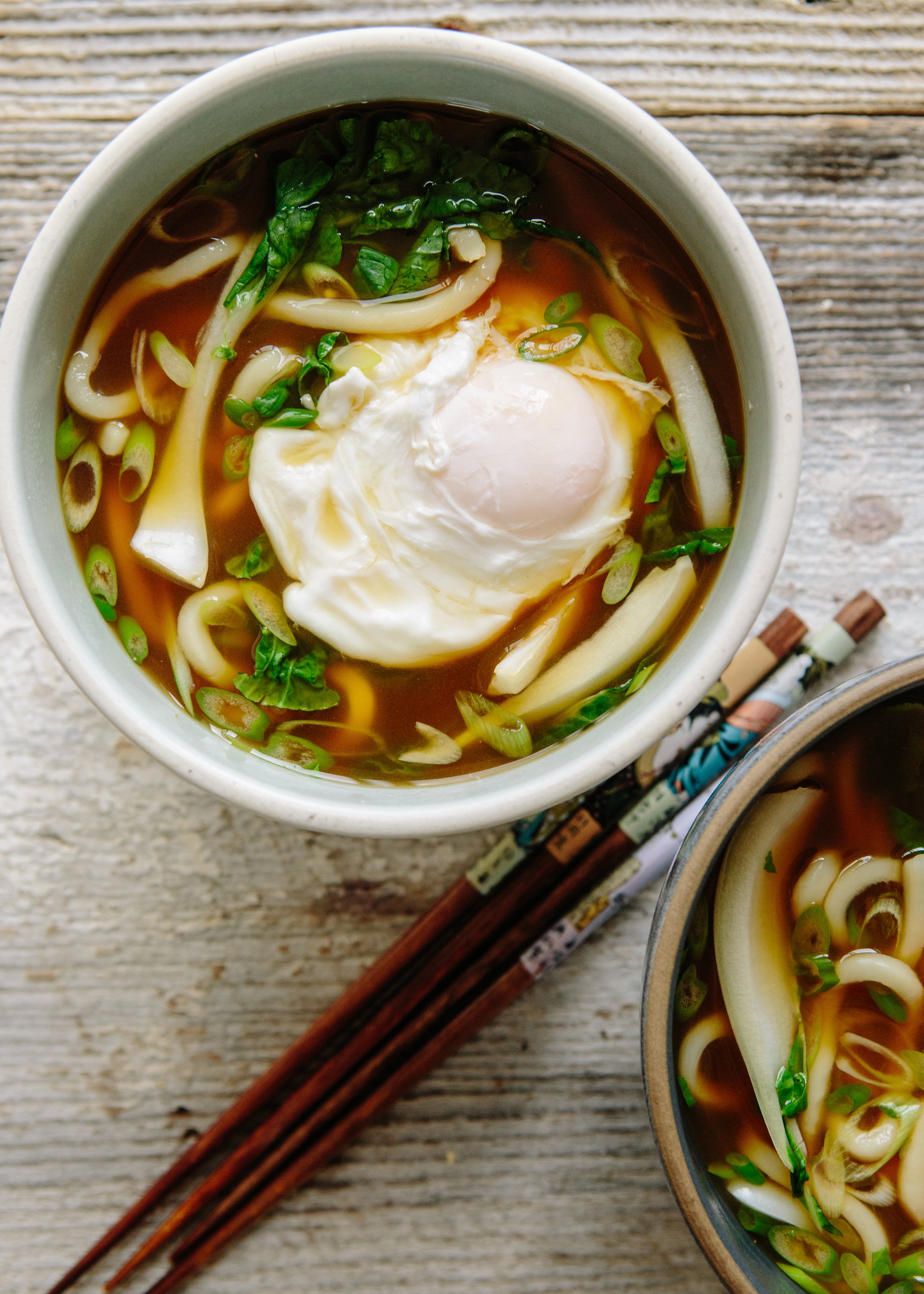 16. Udon Soup with Bok Choy and Poached Egg
Simmer broth with star anise and cinnamon, then add in chewy udon noodles, bok choy, and eggs for a satisfying noodle soup that really only takes a few minutes to put together.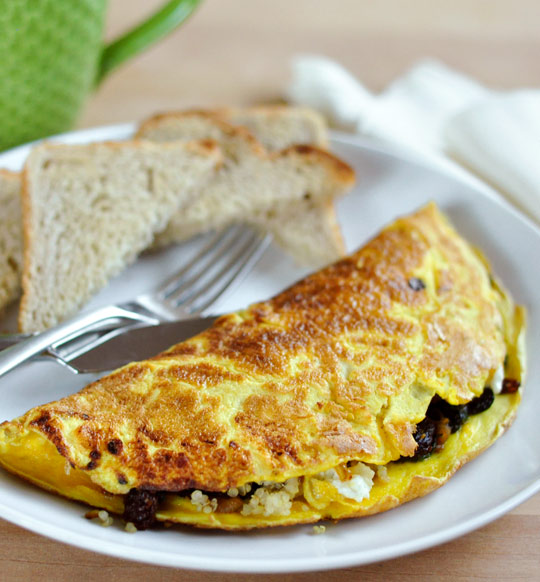 17. 3-Egg Omelet with Quinoa, Sun-Dried Tomatoes, Spinach, and Goat Cheese
This hearty omelet is packed with protein, thanks to the addition of quinoa in the filling. Sun-dried tomatoes, fresh spinach, and tangy goat cheese finish this omelet that is really a complete dinner all in itself.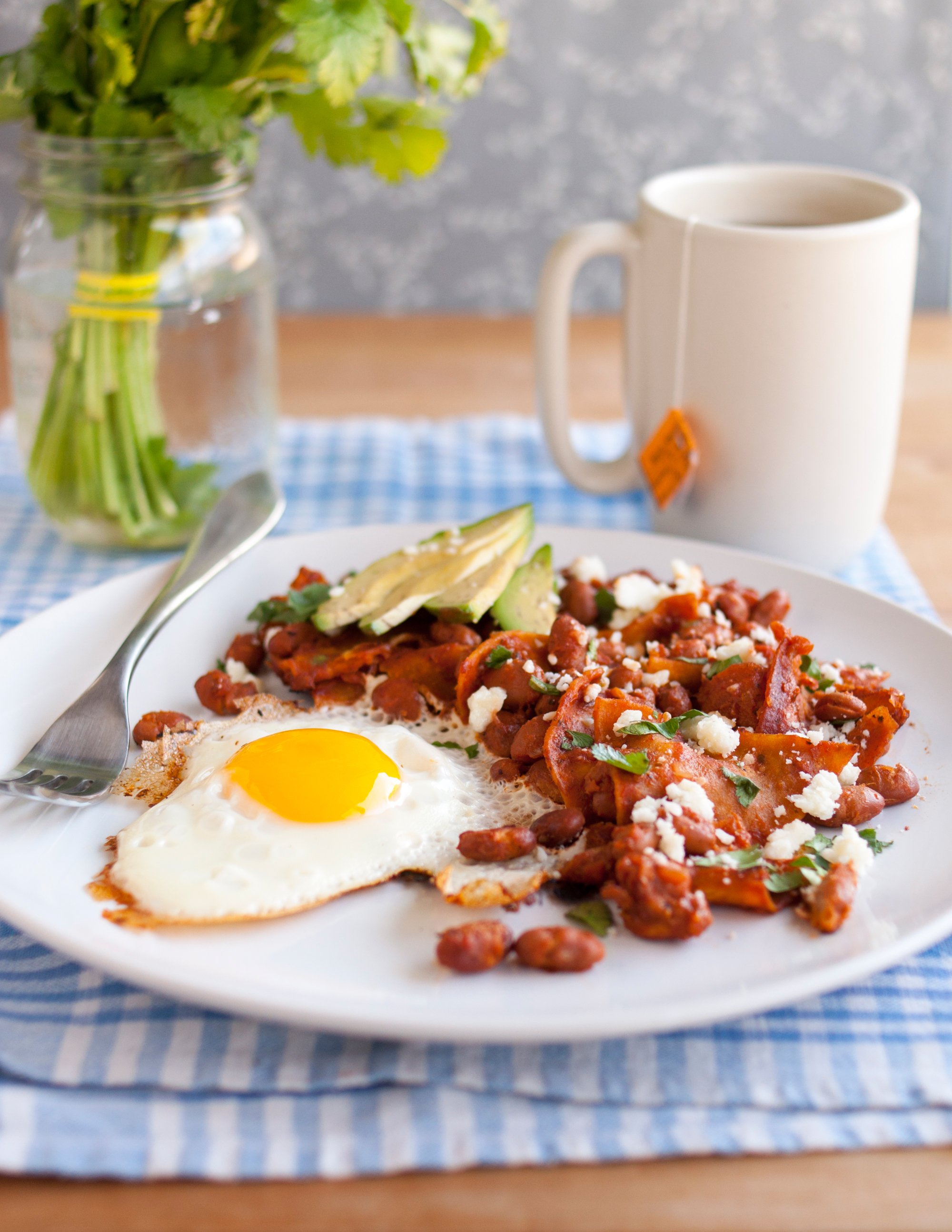 18. Bean Chilaquiles with Avocado & Queso Fresco
Chilaquiles is a great way to use up leftover corn tortillas; all you need to do is simmer them in sauce and add in some beans. Finish it all with a fried egg and some avocado.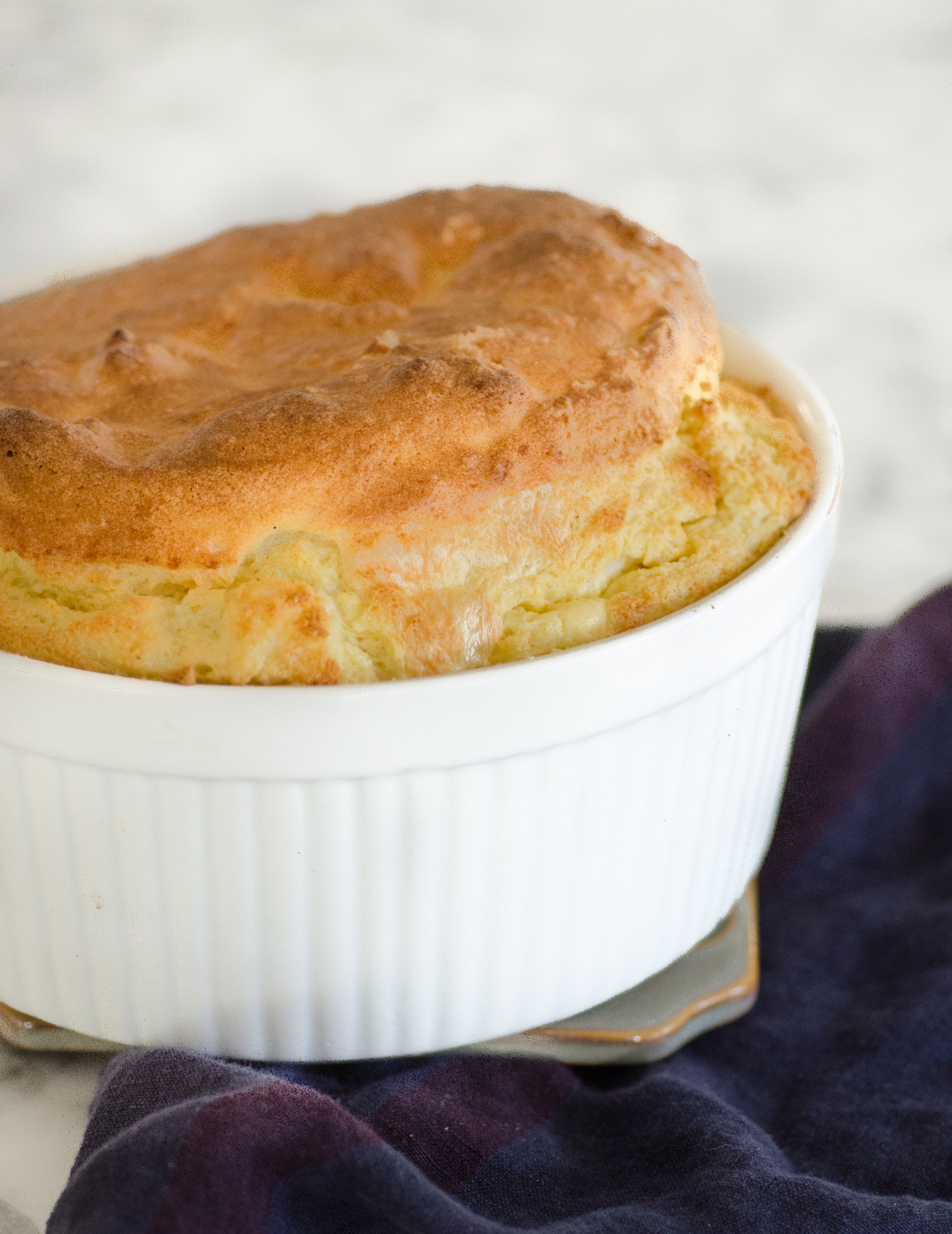 19. How To Make a Cheese Soufflé
It may seem complicated, but a cheese soufflé is really just a delicious combination of eggs and cheese. Make a bechamél sauce, fold in melted cheese and whipped eggs, and watch it magically transform into an airy but totally satisfying dinner.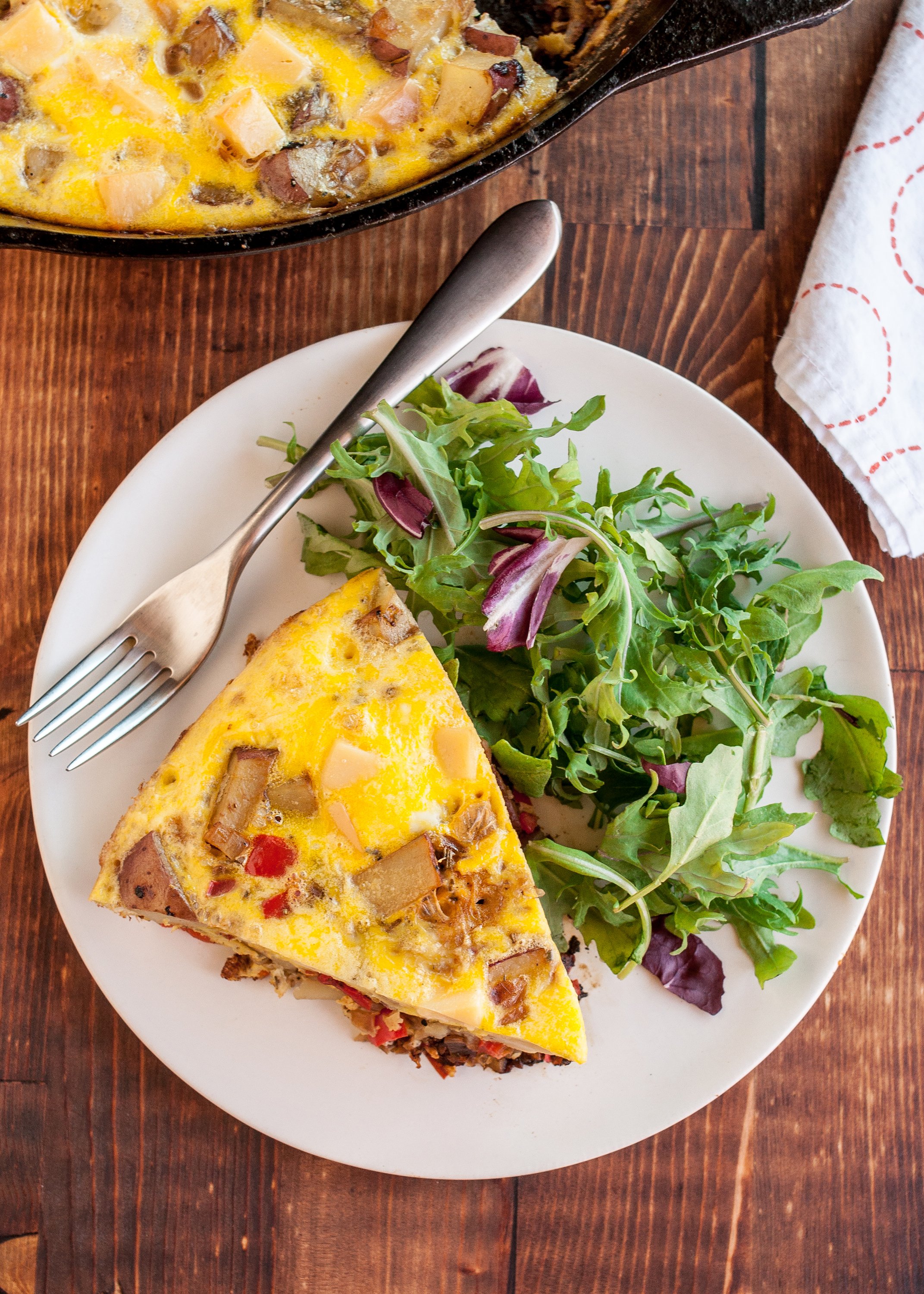 20. Frittata with Potato, Red Pepper & Gouda
Frittatas are really just baked egg casseroles, and you can fill them with just about anything. This vegetarian version has sautéed potatoes, bell peppers, and Gouda cheese. Round the meal out with a green side salad.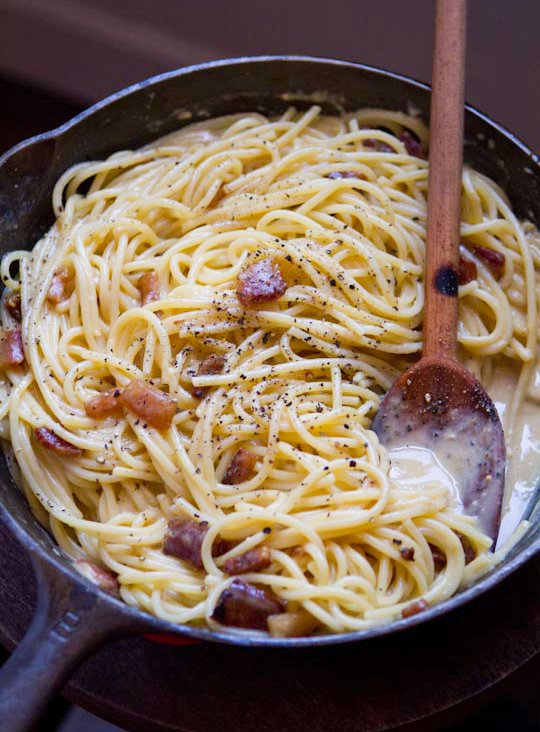 21. Authentic Spaghetti alla Carbonara
One of the most comforting pasta dishes out there is carbonara. The secret is that beaten eggs and cheese turn into a creamy sauce that coats the pasta and bacon. You might not even realize that eggs are in there, but they're foundational to this dish; it just isn't carbonara without them!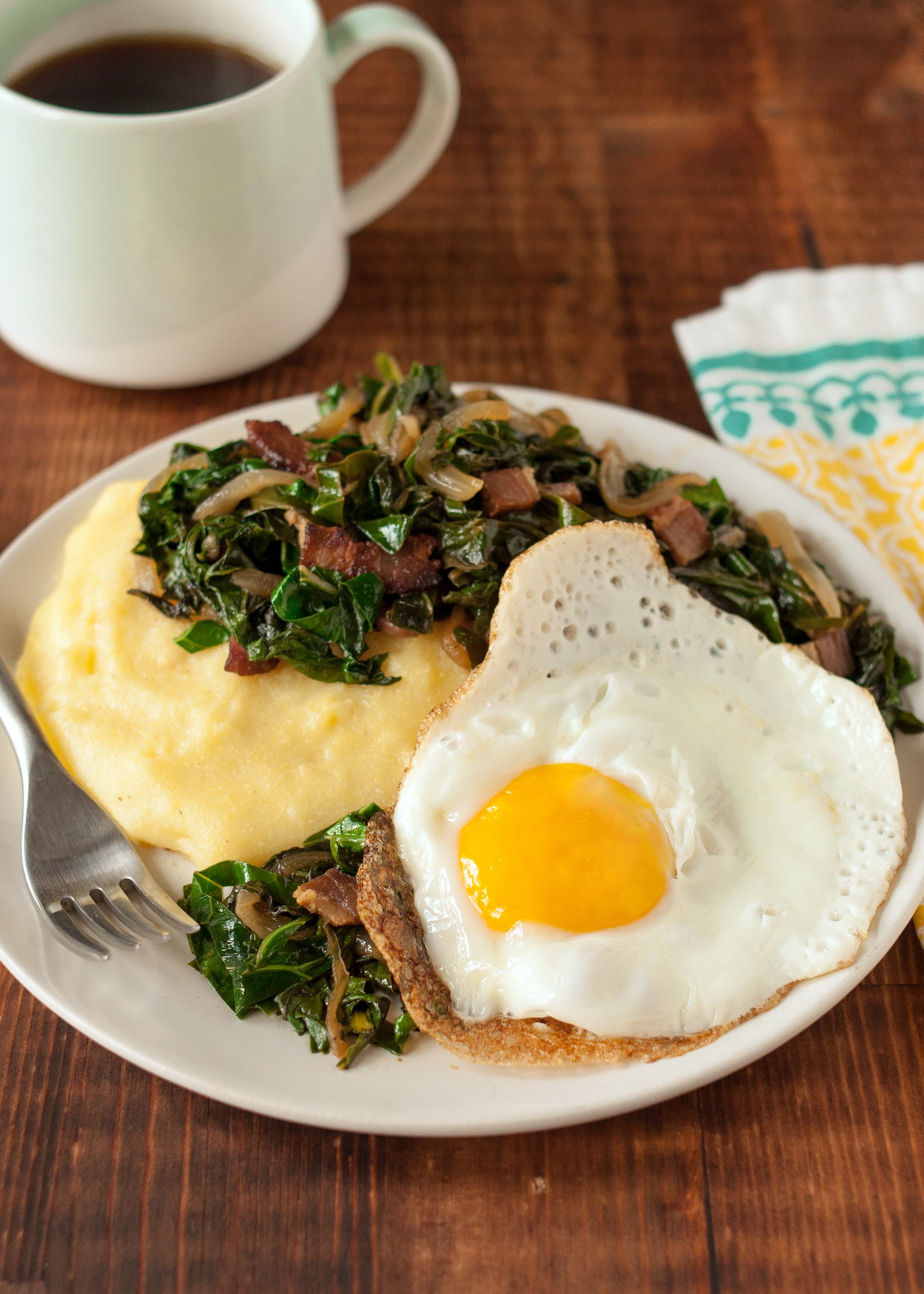 22. Fried Eggs & Collard Greens over Polenta
This stew of collard greens, bacon, onions, and broth is served with a crispy fried egg over creamy polenta.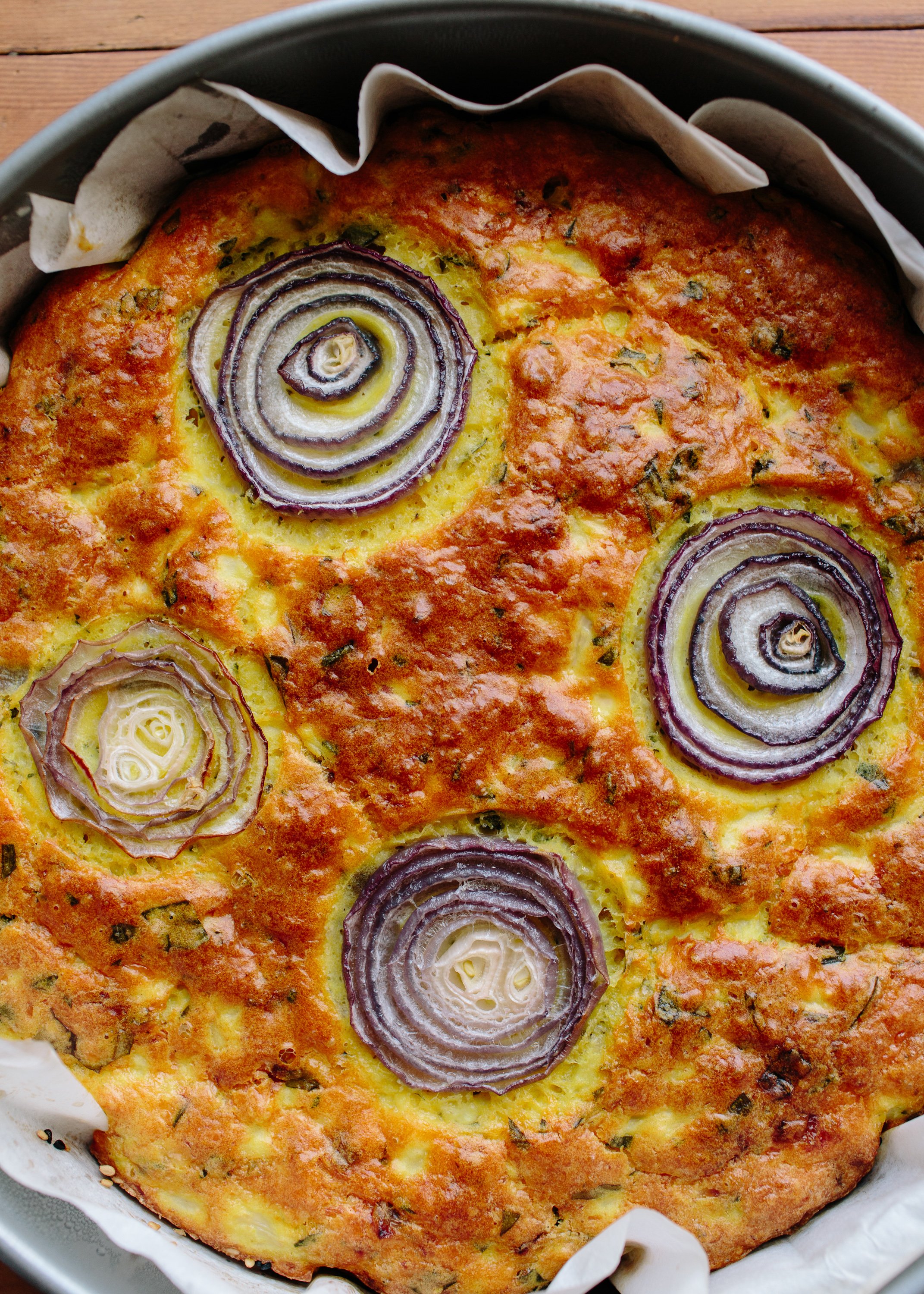 23. Yotam Ottolenghi's Cauliflower Cake
Make this savory cake filled with eggs, cauliflower, and fresh herbs now. It's also great at room temperature and makes for a great lunch the next day too.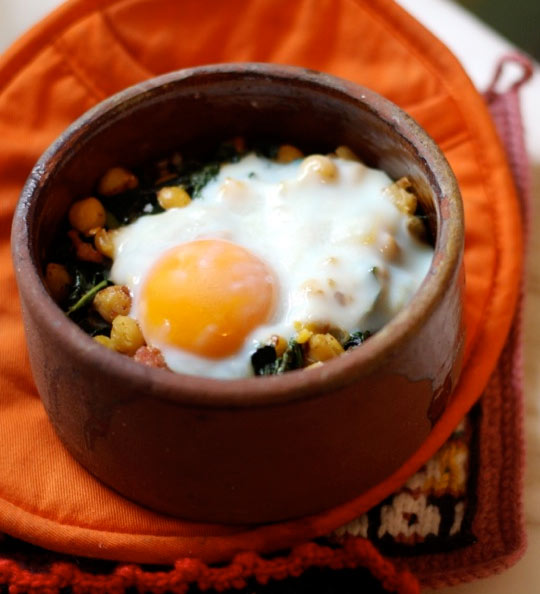 24. Chickpeas, Kale, and Sausage with Oven-Baked Egg
Get your meat, greens, and beans together in this dish that finishes it all with a baked egg that's cracked on top. Don't forget some bread for mopping up the sauce.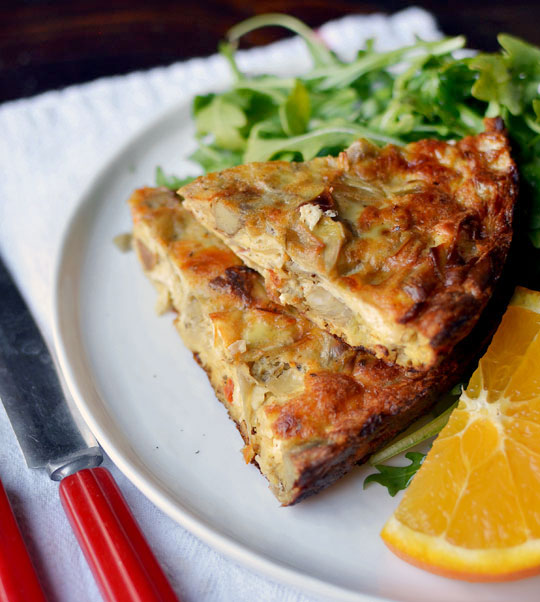 25. Sausage, Artichoke & Goat Cheese Egg Bake
Bake a few beaten eggs with milk, frozen artichokes, sausage, and goat cheese. Leftovers work well for lunch the next day too!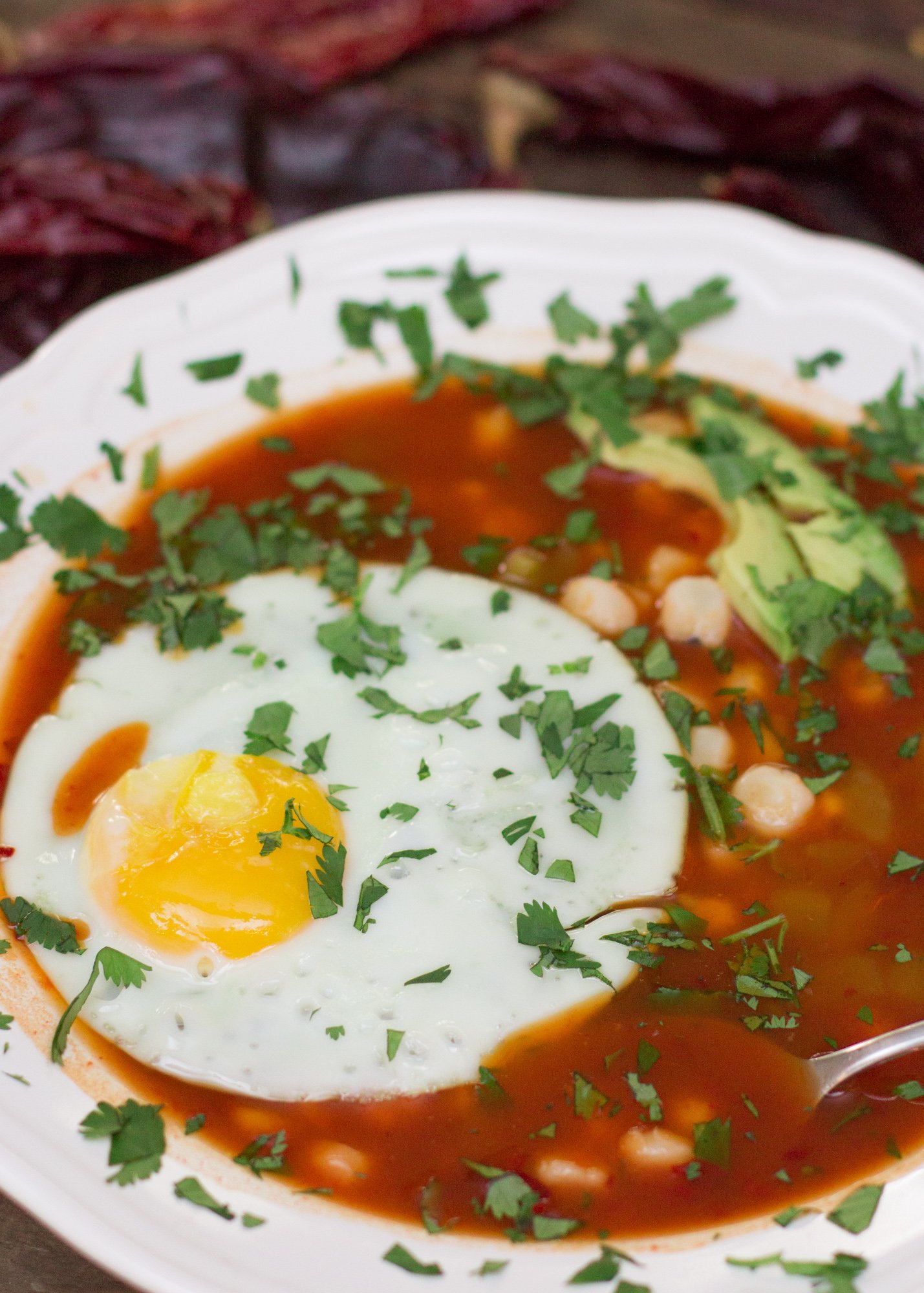 26. Vegetarian Breakfast Posole
Cook a broth of hominy, tomatoes, and chiles, then top with fried eggs and avocado to make it more substantial. While you can certainly have this for breakfast, we like the idea of posole and eggs for dinner just as much.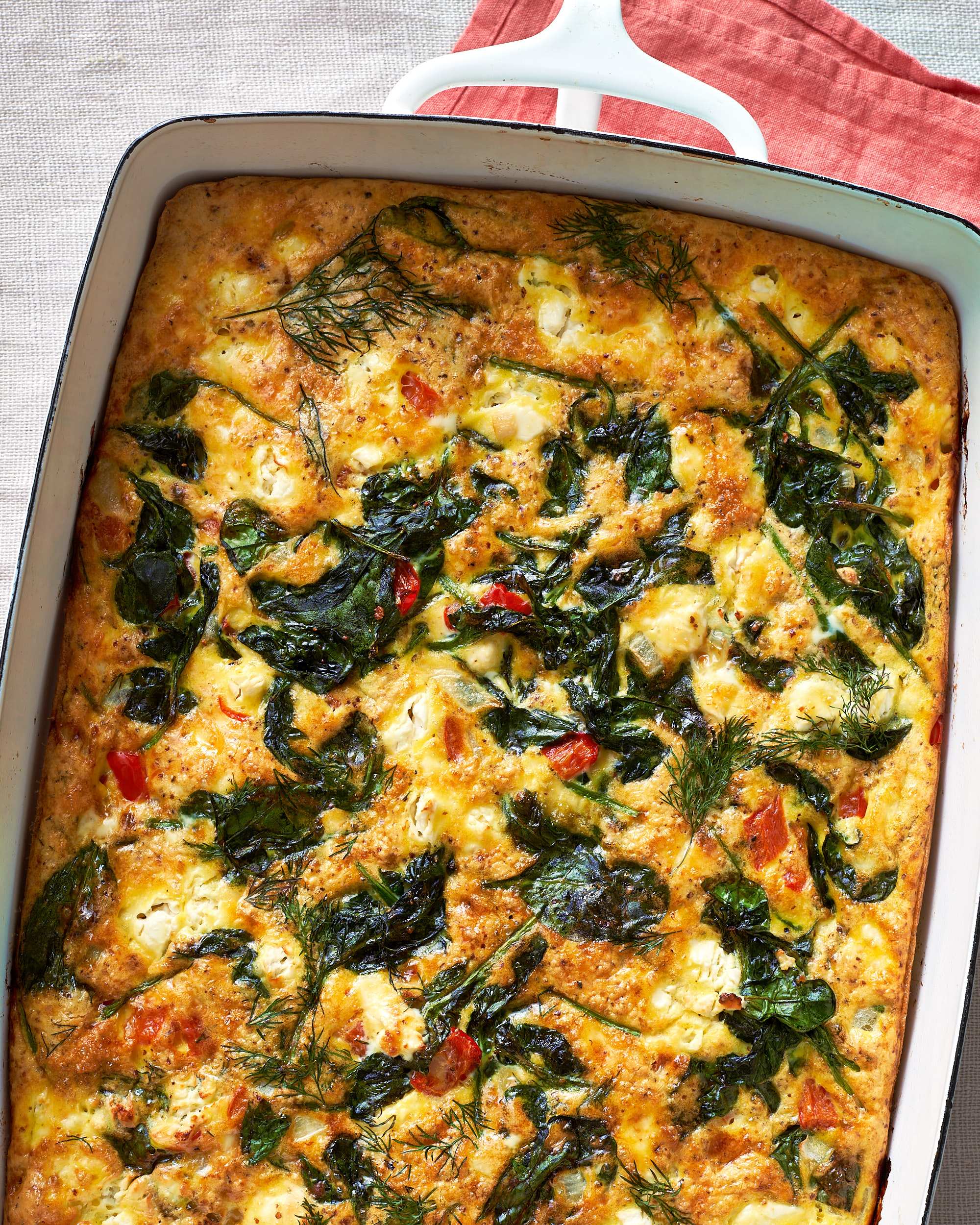 27. Make-Ahead Baked Greek Omelet
The great thing about this feta and dill-spiked omelet is you can prepare it ahead of time and freeze it, unbaked, for up to three months. After a quick thaw overnight, it bakes up for an easy dinner.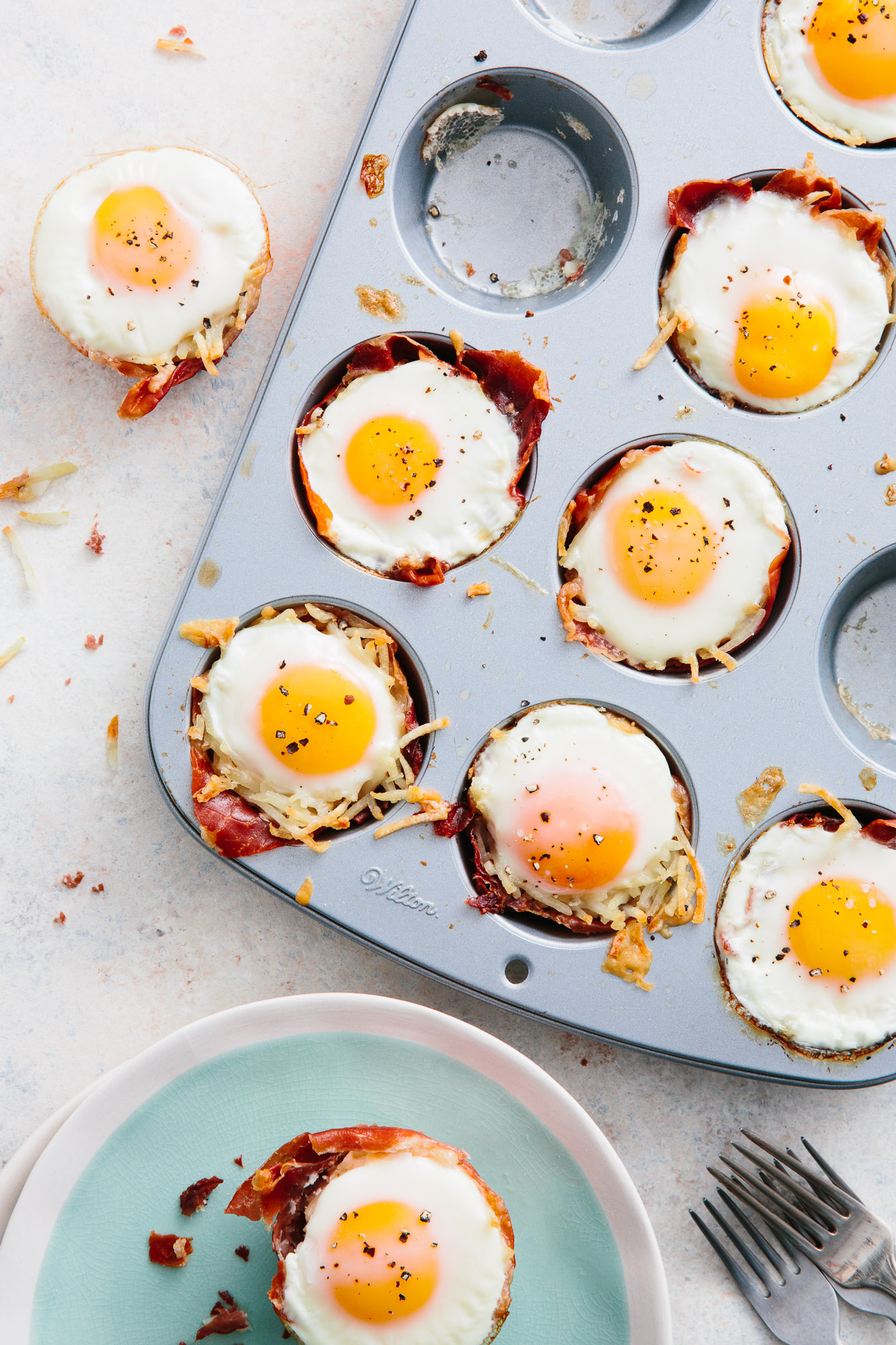 28. Crispy Prosciutto and Egg Cups
These egg cups calls for frozen shredded hash brown potatoes to make these easy. Pair them with a big green salad for a satisfying dinner.
29. How to Make the Absolute Best Chilaquiles in Just 30 Minutes
You have some options here: Both fried or scrambled eggs work well on top of this saucy Mexican dish, so take your pick.
30. How to Make the Easiest Eggs Benedict
Eggs Benedict may be a brunch favorite, but it's special enough to make for quite a nice dinner, too.
Source: Read Full Article