Total:

1 hr 20 min

Active:

10 min
Yield:

4 servings

Nutrition Info

Nutritional Analysis

Per Serving

Calories

291 calorie

Total Fat

11 grams

Saturated Fat

2 grams

Cholesterol

154 milligrams

Sodium

804 milligrams

Carbohydrates

2 grams

Protein

40 grams

Sugar

0 grams
Ingredients
Directions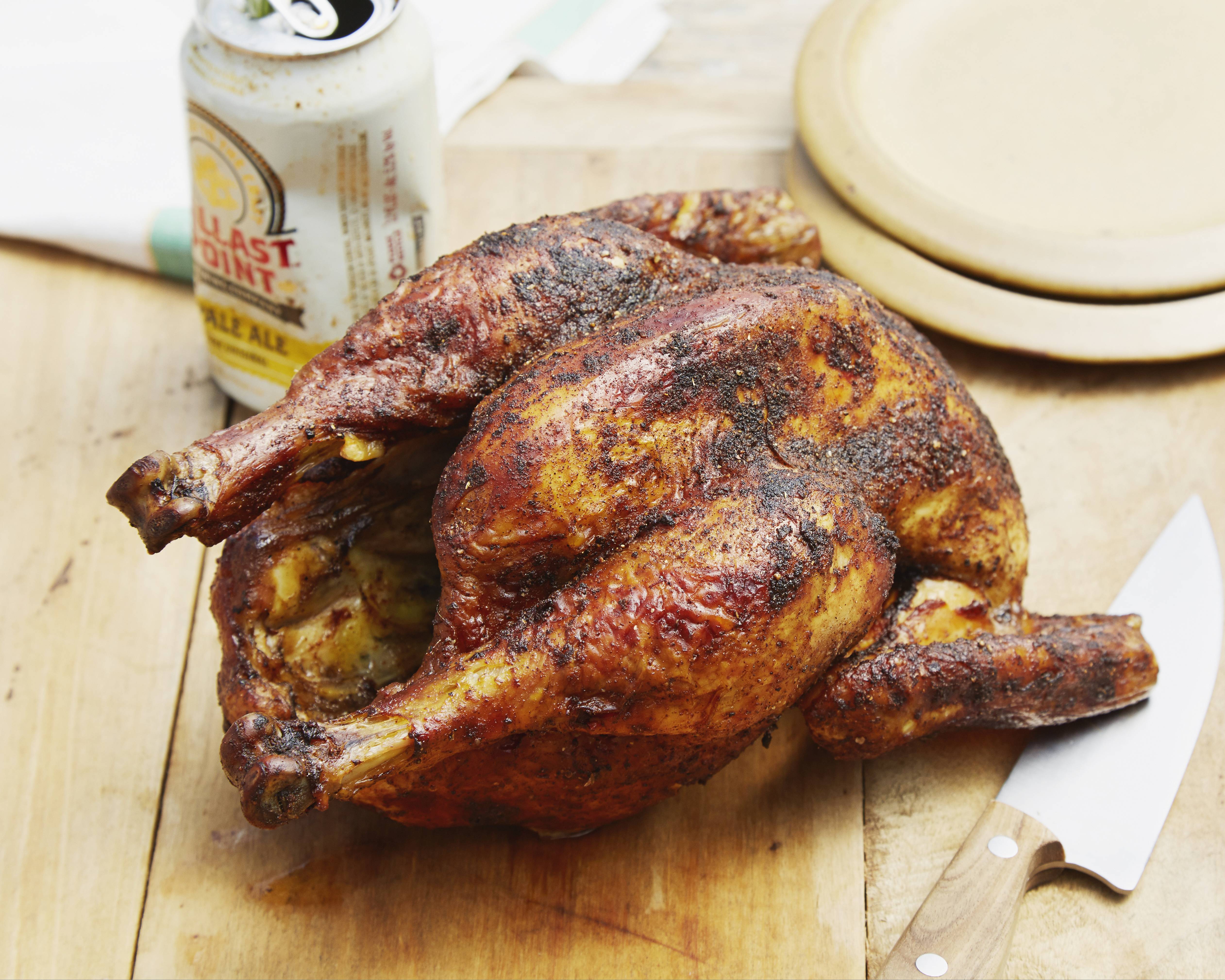 Prepare a kettle grill with charcoal off to one side for indirect grilling and add the soaked apple wood or mesquite wood chips over the coals. Remove the neck and giblets and pat the chicken dry with paper towels. Brush chicken all over with oil and sprinkle with salt and pepper and 3 tablespoons dry rub. Set aside.
Open the beer can, pour out about 1/2 cup of the beer into a cup and drink it (or pour it over the wood chips). Make an extra hole in the top of the can with a church-key can opener. Add the remaining 1 tablespoon dry rub to the beer can (it might fizz up a little bit at the top, but don't worry, that is normal), the garlic and rosemary.
Hold the chicken above the can of beer and slide the chicken over the can. Fold the wings back behind the chicken. Make sure the legs are in front of the can, supporting the chicken. Place the chicken inside a disposable pan.
Place the pan on the grates of the grill on the opposite side of the charcoals, put lid on and cook the chicken until golden brown and the internal temperature registers 160 degrees F in the breast area and 175 degrees F in the thigh area on an instant-read thermometer, 1 to 1 1/2 hours. Remove from the grill (be careful not to spill the contents of the beer can as it will be very hot) and let rest for 10 minutes before carving.
Use a pair of locking tongs and grab the bottom of the beer can to remove from the chicken cavity. Place on a platter or cutting board to rest and cool. Carve and serve.
Source: Read Full Article