These are the cutest cupcakes we've ever seen.
Yields: 24
Prep Time: 0 hours20 mins
Total Time: 0 hours40 mins
Ingredients
1 box Devil's food cake mix, plus ingredients called for on box
1 1/2c. butter, softened
6 c. powdered sugar
2 tsp. pure vanilla extract
1/4c. heavy cream
pinch of kosher salt
Orange and yellow food coloring
Pretzel sticks, for decoration
48 mini marshmallows
24 toothpicks, for decoration
This ingredient shopping module is created and maintained by a third party, and imported onto this page. You may be able to find more information about this and similar content on their web site.
Directions
Preheat oven to 350° and line two cupcake pans with cupcake lines.
Prepare cake batter according to package instructions and divide between cupcake pans. Bake until a toothpick inserted into the middle of a cupcake comes out clean, about 20 minutes. Let cupcakes cool completely.
In a large bowl using a hand mixer or the bowl of a stand mixer using the paddle attachment, beat butter until fluffy. Add powdered sugar and beat until combined, then add vanilla, heavy cream, and salt and beat until combined.
Divide buttercream between two bowls and dye one bowl of buttercream orange and the other yellow.
Alternating between orange and yellow, fill a large piping bag fitted with a large star tip. Pipe swirled buttercream onto each cupcake.
To decorate, arrange pretzel sticks, standing up, around the buttercream to look like sticks in a bonfire. Skewer two mini marshmallows onto each toothpick and stick a toothpick into each cupcake. Serve immediately.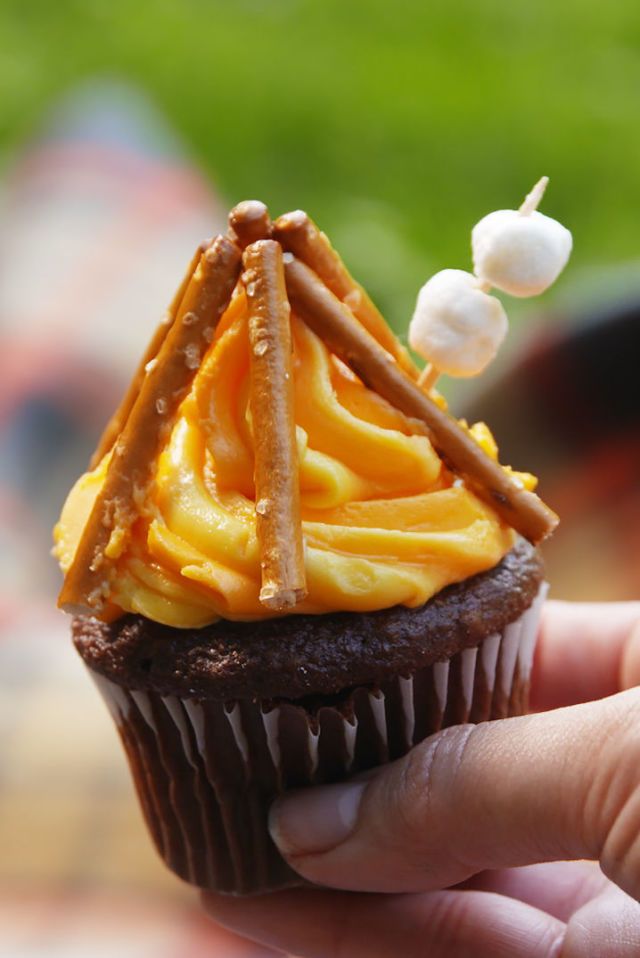 Source: Read Full Article