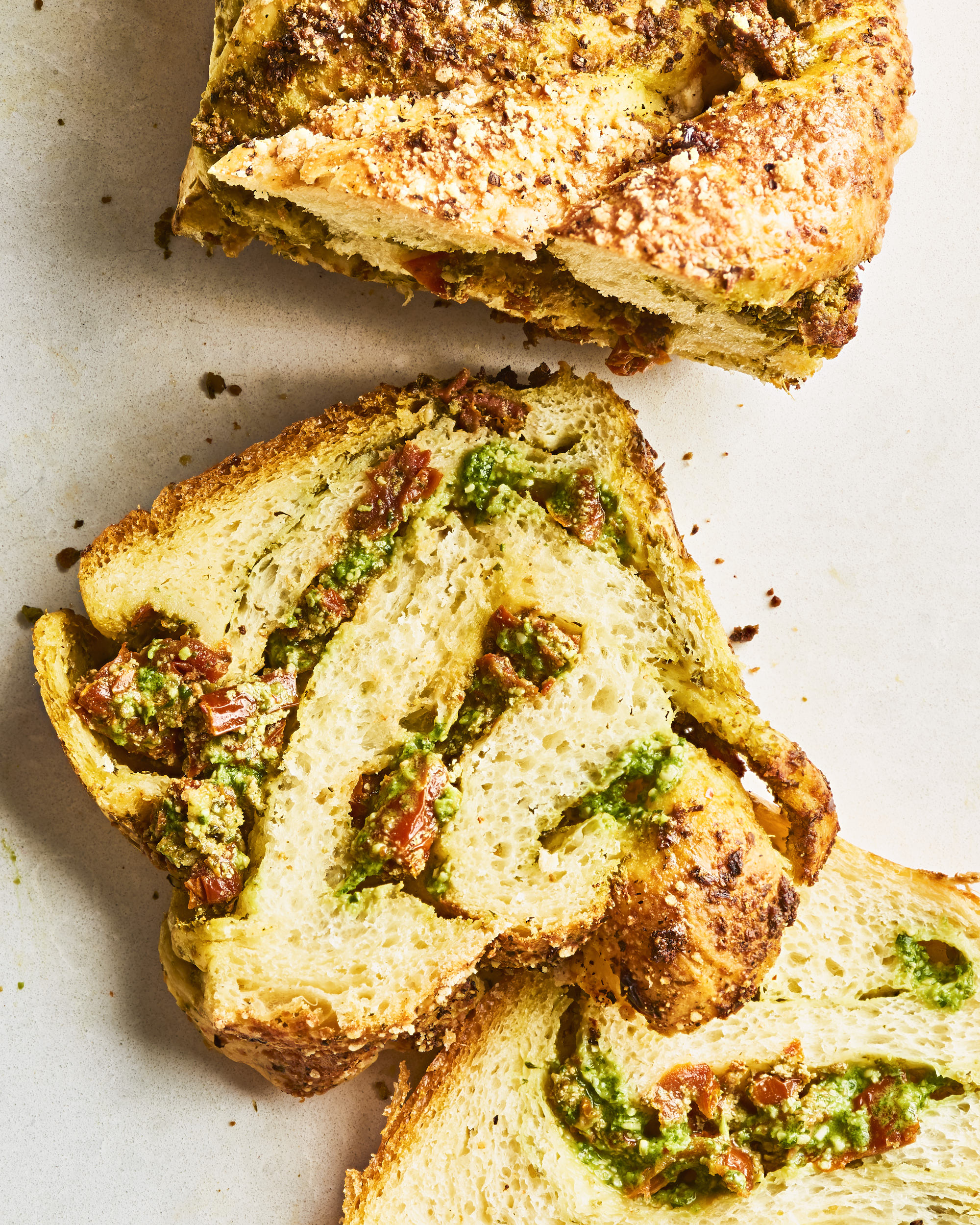 My family and I are big babka people. It all began when my sister and I took my mom to NYC's Bread's Bakery, home of a very decadent, very popular chocolate babka. Before she left to go back to Cincinnati, she insisted we return to Bread's so she could take a loaf back with her. Once home, she proceeded to slice it up, stash individually wrapped slices in the freezer, then warm one up on weekend mornings to enjoy with her coffee and newspaper.
It's a brilliant strategy, albeit an expensive one — routinely shipping Bread's babka to my mom (and now my grandpa, who has developed an interest in Bread's Cinnamon variety), is not exactly sustainable. Figuring out an easy way to make at home? Now that's a promising solution. Because you get to eat it fresh from the oven, this babka is arguably better than any bakery variety, and the savory twist is a fun way to switch things up.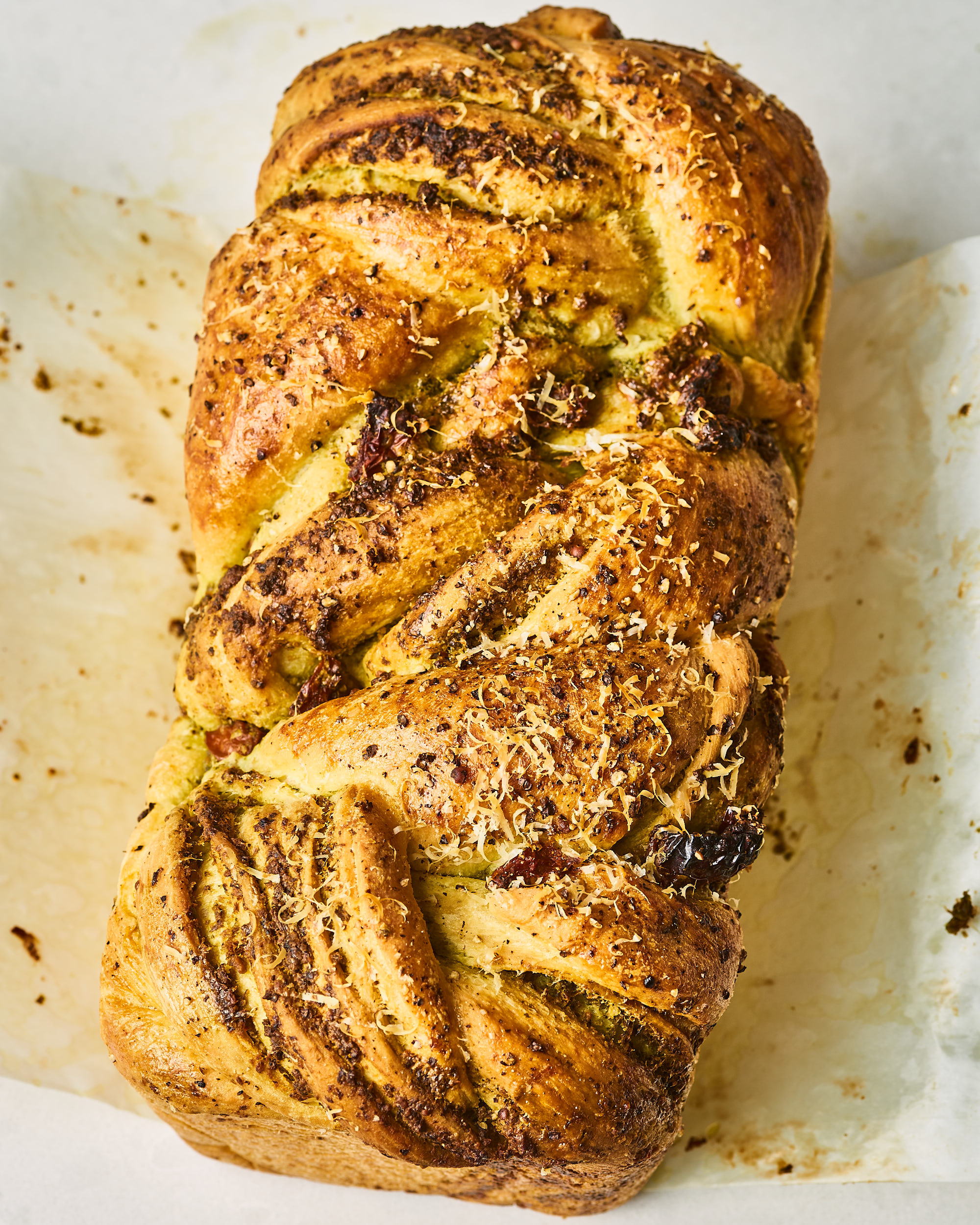 Cheesy Pesto Babka Is What Every Brunch Spread Needs
Of course I'll never turn down a slice of warm chocolate babka. But I actually prefer a savory start to my morning. That's when the idea of a cheesy babka was born: You still get all the fluffy bread, pretty swirls, and crunchy bronzed crust, but instead of a sugary glaze, the loaf is coated with grated Parm and freshly cracked black pepper.
Even if you've never made babka before (or any yeast bread, for that matter), you can still pull this off with great success. Plan ahead, because the dough does need to rise twice — but the recipe yields two loaves, so you'll be handsomely rewarded for the wait. Set it out as part of a brunch spread alongside eggs, bacon, and fruit, then take a cue from my mom and stash one in the freezer for yourself.
More Great Babka Recipes
How To Make Babka
Sticky Caramel-Pecan Babka Loaves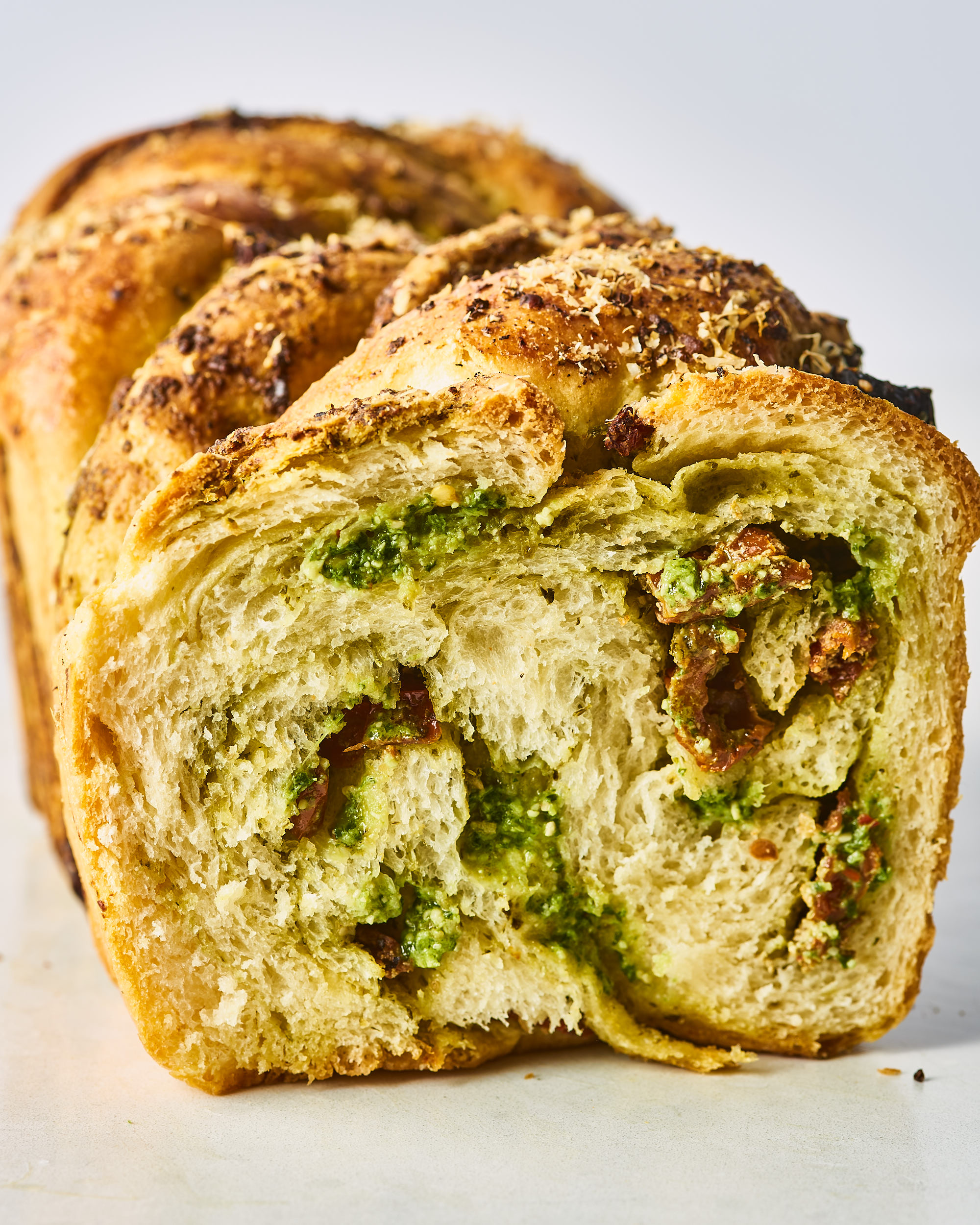 Savory Babka with Pesto, Ricotta, and Sun-Dried Tomato
Ingredients
For the dough:
1/2

cup

water

1

(1/4-ounce) packet

active dry yeast (about 2 1/4 teaspoons)

1/2

cup

whole milk

3

large eggs

2

teaspoons granulated sugar

1 1/4

teaspoons

kosher salt

4 1/2

cups

to 4 3/4 cups all-purpose flour, plus more for the work surface

8

tablespoons

(1 stick) unsalted butter, cut into 8 pieces and at room temperature

Cooking spray or more butter for greasing the bowl and pans
For the filling:
1

cup

whole-milk ricotta cheese

1/2

cup

basil pesto

1/2

cup

finely grated Parmesan cheese

1

(7-ounce) jar

sun-dried tomatoes packed in oil, drained and coarsely chopped (about 1 cup)
For the loaves:
1

large egg

Finely grated Parmesan cheese, for sprinkling

Freshly ground black pepper

Flaky sea salt, such as Maldon
Instructions
Make the dough:
Combine the water and yeast in the bowl of a stand mixer fitted with the hook attachment and let stand until yeast is dissolved, about 5 minutes. Add the milk, eggs, sugar, and salt and mix until combined. Add 4 1/2 cups of the flour and knead on low speed until a shaggy dough forms. Continue kneading on low speed until the dough comes together and is no longer floury, about 5 minutes. Begin adding the butter one piece at a time, waiting until one piece is just barely incorporated before adding the next.

When all the butter has been added, continue kneading for another 5 minutes until the dough is silky and elastic. It will bunch around the dough hook but won't form a smooth ball; that is okay. Add the remaining 1/4 cup of flour as needed if the dough is sticking to the sides of the bowl.

Coat a large bowl with more butter. Transfer the dough into it, cover with plastic wrap or a clean kitchen towel, and let rise until doubled in size, 1 to 1 1/2 hours.
Make the filling:
Stir the ricotta, pesto, and Parmesan together in a medium bowl until combined.
Assemble the babka:
Line 2 (8×4-inch) loaf pans with long rectangles of parchment paper so that the parchment hangs over the sides of the pan. Grease the pans with butter or cooking spray.

When the dough is ready, sprinkle a work surface lightly with flour and place the dough on top of it. Divide into 2 pieces.

Roll one of the pieces of dough into a 10×14-inch rectangle with the short end facing you. Spread half the filling on top in an even layer, leaving a 1-inch border. Top with half of the sun-dried tomatoes.

Starting with the short end closest to you, carefully roll the dough into a log. If the dough sticks to the counter, use a bench scraper to gently pry it up. When done rolling, pinch the dough to seal it closed. Gently slice the log lengthwise, creating two halves with lots of layers.

Position the halves so that the layers are facing up. Press the two halves together at one end, then twist the halves around each other, creating a spiral. Press the halves together again at the other end. Carefully transfer the loaf into a loaf pan. If the loaf is a little too long for the pan, just smoosh it a little on either end to make it fit.

Repeat with the other piece of dough to create a second loaf. Cover the loaves with plastic wrap or clean kitchen towels and let them rise on the counter until puffed, about 1 hour.

Arrange a rack in the middle of the oven and heat to 350°F. Whisk the egg with 1 teaspoon water and gently brush it all over the surface of the loaves. Top with a sprinkling of grated Parmesan, several grinds black pepper, and flaky sea salt. Bake until golden-brown and a skewer inserted in the center comes out clean, 45 to 55 minutes.

Let the loaves cool in the pan for about 20 minutes. Run a knife around the edges to release them from the pan. Use the parchment to lift the loaves from the pan. Place them on a wire rack and slide the parchment out from underneath. Serve warm.
Recipe Notes
Storage: These loaves are best served warm, but are still excellent for several days after. Store unsliced loaves covered in the refrigerator for up to 5 days; rewarm in the oven or microwave. Loaves can also be wrapped tightly in plastic wrap and aluminum foil and frozen for up to 3 months.
Source: Read Full Article