Level:

Easy

Total:

8 hr 30 min
Prep:

10 min

Cook:

8 hr 20 min
Ingredients
Directions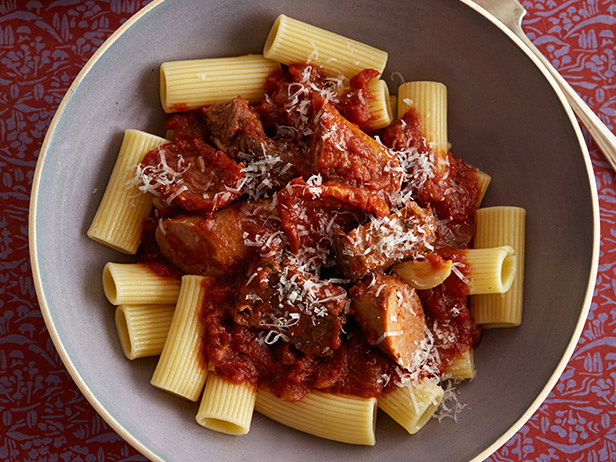 Heat a large skillet or a 5 1/2- to 6-quart stovetop-safe slow cooker insert over medium-high heat. Add the oil and sausage and cook, turning occasionally, until brown all over, 7 to 8 minutes. Push the sausage to the side of the cooker. Add the tomato paste and cook, stirring, until brick red, about 1 minute. Add 1/2 cup water and bring to a boil, stirring to scrape up the browned bits.
Add the short ribs, Italian herbs, garlic, sun-dried tomatoes, crushed tomatoes, onions, bay leaf, 1 tablespoon salt and some pepper to the insert and put it into the slow cooker. If you're using a skillet, transfer the tomato mixture to the slow cooker at this point. Cover the cooker, set it on low and cook until the beef is very tender, 6 to 8 hours.
When ready to serve, bring a large pot of salted water to a boil. Add the pasta and cook, stirring occasionally, until al dente, about 10 minutes. Drain.
Transfer the sausage and beef to a cutting board, slice into serving portions and arrange on a serving platter. Toss the pasta with some of the sauce and transfer to a serving bowl.
Serve the meat and pasta with the Parmesan and remaining sauce on the side. Freeze any leftover sauce for up to 1 month.
Source: Read Full Article